Sr. Hannah Vanorny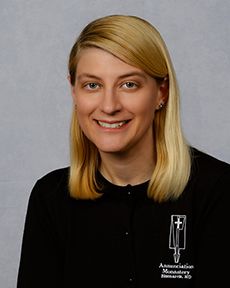 My name is Sister Hannah Vanorny. I am from Oakes, North Dakota. Since my earliest experience with sisters, I have always been interested in this underlying, mysterious joy that emanated from them. While I was in college, I spent time with a number of different religious communities around the Dakotas. So how did I end up in Bismarck? Well…it all started at the Perkins restaurant in Fargo. I arranged to meet Sister Kathleen Atkinson (Sr. K), who was director of vocation ministry at Annunciation Monastery at the time. I picked Sr. K out the minute I stepped through the door and spotted her smiling face as she was talking animatedly with another woman. The friendliness, openness and generosity displayed in the smiling woman's face gave her away as a sister. The welcoming hospitality I saw in Sr. K that day was a trait common to all of the sisters I later met when I visited Annunciation Monastery.
I visited the monastery for the first time just a short time before Christmas 2003. My grandma, whom I was very close to, was dying of brain cancer at the time and I was not feeling the best. However, the sisters made me feel so welcome and at home during my short stay that I found myself telling these "strangers" all about my sadness.
Well, after that first visit, I kept coming back to the monastery over the next few years. The sisters' warmth always drew me, as did their daily prayer, emphasis on community, and focus on each person as an important creation of God. I was also attracted by the fact that the sisters were of the Benedictine order. As a person who likes history, I found it fascinating that a group of people followed a rule written in the 6th century.
The future of this community excites me because it seems that the sisters know how to look ahead and make viable plans for the future, while gleaning from the past. The educational and medical programs they have run have come a long way from their humble beginnings. I think the optimistic and energetic attitudes of the sisters have carried the community to great places – and I see only better things for the future.
I am happy I have chosen this life, seeking God with this community. Now people notice that underlying, mysterious joy in me!
https://www.youtube.com/watch?v=fCy-8X7jsPE&feature=youtu.be
*Sister Hannah currently serves at the Bismarck Public Library and teaches a course at the University of Mary.