Sr. Krista Ferrell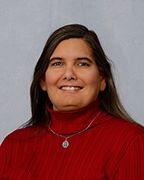 I was born in Salt lake City, Utah. My parents are Terence (father) and Toni Ferrell (mom, with our Lord!).  I have three younger sisters, Amanda Cermak, Bonnie Ferrell and Amanda Jolly.
As a young adult, I heard God ask me to draw closer to Him and be open to religious life. God's timing was curious as I was graduating with a long-sought degree. I decided to test God's request and see if the feelings would go away. They didn't. 
I fell in love with the Benedictine rhythm of life. As I heard the vocation stories of the sisters I met, I had much to think about. I met Sister Nancy Miller, Sister Nicole Kunze and Sister Hannah Vanorny at a conference for Benedictine Sisters under the age of 55. We corresponded and I made visits to the monastery which confirmed my fit at Annunciation Monastery. I felt at home at the monastery from the first time I visited. My natural gift of hospitality fits with the sisters' spirit of hospitality. I am excited to do God's will as part of this monastic community and I look forward to how the sisters and I will help each other grow closer to God.
I completed my novitiate year in September 2019 and made my first monastic profession on October 19, 2019.
In my free time, I enjoy photography, hiking, riding bike, watching movies, and playing disc golf.