Sr. Terence Glum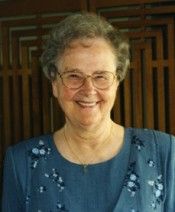 Sister Terence grew up on a farm McKenzie, North Dakota. She was the middle child of nine children, with two boys and two girls older, and two boys and two girls younger. Growing up in a rural area during the Great Depression, the "dirty thirties," she recalls
the one-room country schoolhouse where she attended school with about nine other children: four grades and one teacher. She also remembers going to church about once a year, as there was no church in the area.
Sister Terence attributes the early influence of religion in her life to her mother, a woman who came from Ireland and was raised in a convent until about age 16. Her mother had a strong religious background, which she imparted faithfully to her family.
When she was in the eighth grade, Sister Terence's family moved to Bismarck. Sister Terence attended St. Mary's school from eighth grade through high school. Religious and catechetical training played a significant role in her education and formation.
After high school, Sister Terence pursued a career in nursing, receiving her training at St. Alexius Hospital. She graduated in 1942, the year World War II began. Sister Terence joined the Navy Nurse Corps. After the war was over, she made another important life decision: to enter religious life as a Benedictine Sister of Annunciation Monastery.
Sister Terence has enjoyed ministries in both nursing and teaching. She has served as a nurse at St. Alexius Hospital and Garrison Memorial Hospital, and has received education and training in anesthesia. She earned a masters' degree in science education, and taught at the University of Mary for 25 years. "I liked teaching very much," she reminisces.
Currently, Sister Terence serves in a supportive capacity for the monastery, as switchboard operator/receptionist and management of mail receipt and delivery. As both hobby and ministry, she knits and crochets a variety of lovely articles of clothing and accessories which are sent to missions who serve the poor.
When asked what was most significant to her about her experience of religious life at Annunciation Monastery, Sister Terence cites prayer life and interpersonal relationships as the most central. "When living life in community," she explains, "it is important to be able to live and work with different age groups, to be concerned about other people, to be willing to take direction from others, and to give it kindly." She offers this guidance: "It is so important to set a good example for other people."