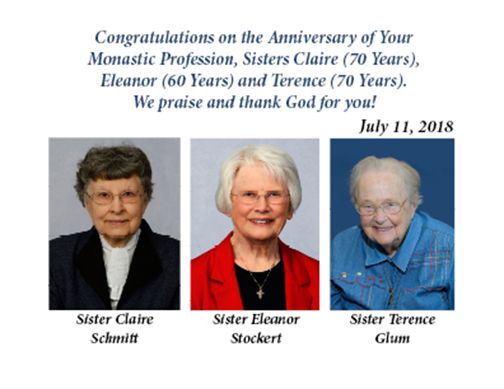 We praise and thank God for our 60th and 70th Jubilarians! On July 11, the Feast of St. Benedict, our Sisters will honor our jubilarians in a monastic community celebration.
Celebrating their jubilees are:
Sister Claire Schmitt, 70 Years
Sister Eleanor Stockert, 60 Years
Sister Terence Glum, 70 Years
We are thankful for these prayerful women who serve so faithfully, bearing witness to the Gospel values, and extending Benedictine hospitality and loving service to others every day.
http://www.annunciationmonastery.org/about/meet-our-sisters.html/title/sr-claire-schmitt
http://www.annunciationmonastery.org/about/meet-our-sisters.html/title/sr-eleanor-stockert
http://www.annunciationmonastery.org/about/meet-our-sisters.html/title/sr-terence-glum