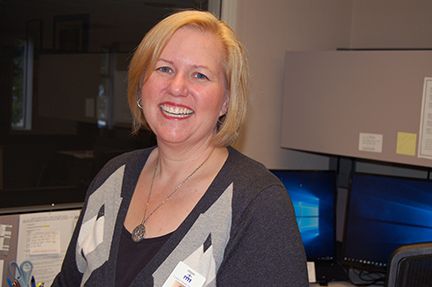 Public Invited to Sister Idelle Badt's Perpetual Monastic Profession
The public is invited to join the Benedictine Sisters of Annunciation Monastery, Bismarck, to celebrate the perpetual monastic profession of Sister Idelle Badt on Saturday, June 22. Eucharistic Liturgy will take place at 1:30 p.m. in Our Lady of the Annunciation Chapel, Benedictine Center for Servant Leadership, University of Mary. A reception will follow at Annunciation Monastery from 2:45 p.m. to 4:00 p.m.
Originally from Savage, MT, Sister Idelle is the daughter of Clydette Boyer (Williston, ND) and Robert Badt (Tonto Basin, AZ).
Sister Idelle says she has always felt drawn to helping others, especially the elderly. She served and advanced in her professional career as grant administrator for Trenton Indian Service Area near Williston, and as Retired Senior Volunteer Program director for Richland County Health Department in Sidney, MT. While she found these positions challenging and fulfilling, Sister Idelle still felt a void that only God could fill and she started exploring God's call in her life with greater intention.
Her exploration led her to Annunciation Monastery. After Sister Idelle's first visit, she knew she wanted to come back, and explained, "It just felt like home." This started her journey to become a Benedictine Sister of Annunciation Monastery. Sister Idelle made her first monastic profession on August 16, 2015.
With a degree in voice from Dickinson State University, and a degree in social work from the University of Mary, Sister Idelle wondered how she could best use her gifts. While on retreat, she envisioned herself at the bedside of the sick. Having blessed some of the elder sisters at the monastery by sitting with them, singing to them and helping them go to God, Sister Idelle felt a level of comfort with the process of dying and death.
It wasn't long after that realization when an opportunity arose to serve as pastoral care associate at the Church of Corpus Christi, which allows her to combine her gifts of caring for others, her love of scripture and music, and her degree in social work.
"Often when someone dies, family members don't know where to start. I try to meet with people who are sick, and their families, so they know what to expect and pre-plan. It is important to get to know the person and their family so I can offer the support and encouragement they want or need. The last best gift you can give someone is a good death." She says the favorite part of her ministry is going to daily Mass and getting to know the people in the pews. Sister Idelle makes hospital visits and delivers communion to homes.
At Annunciation Monastery, Sister Idelle loves to spend time with the elders in community, hear their stories, and help with their needs. She also enjoys time outdoors in the monastery garden.
As she reflects on the journey from her first visit to perpetual monastic profession (final vows), Sister Idelle says with confidence, "I have no regrets, whatsoever, about my decision to become a Benedictine Sister of Annunciation Monastery. I just can't imagine my life anywhere else or doing anything else. This is where I belong, with my monastic community—and I am so grateful!"
*Perpetual Monastic Profession is sometimes referred to as "final vows," and is the last stage of becoming a sister. Please keep Sister Idelle in your prayers for God's grace in her journey with our monastic community.