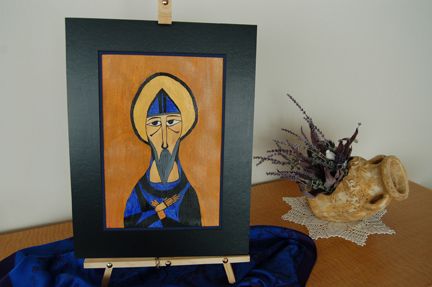 Feast of Saint Benedict
July 11, 2019
Sister Nicole Kunze, OSB
In the first reading (Proverbs 2:1 – 9) today, there are many action verbs, summoning us to do something, to do our part, as we make our way through life.  There are verbs like turn, incline, call, raise, seek, search, receive and treasure.  If we seek and search, we are told that we will then gain understanding and wisdom.  The Rule of Benedict has its share of action verbs.  Here are a few examples: 
Run while you have the light of life (Prologue: 13)
… as we progress in this way of life and in faith, we shall run on the path of God's commandments (Prologue: 49)
The sisters should diligently cultivate silence at all times. (RB 42:1)
The sisters should serve one another. (RB 35:1)
Just a year ago, we studied conversatio as our ongoing formation topic.  Of the three parts of our monastic promise, conversatio has motion and movement at the core of its meaning or interpretation.  We interpret conversatio as "fidelity to the monastic way of life" in our profession document.  It implies journeying and moving forward.  We commit ourselves to facing the demands of growth and change throughout our lifetime.  We commit ourselves to live the daily lifestyle of this community.  It is through living this monastic life, as it is lived in this community, that we make progress towards our ultimate goal of everlasting life. 
For many of us, today is the anniversary of our first profession.  For all of us, it is a day to reflect on our fidelity to the monastic way of life and the gift we've received during our years in this community, whether it has been 4 years (Sister Idelle), 17 years (Sister Melissa), 60 years (Sister Grace), 70 years (Sister Rita), or 79 years (Sister Elizabeth).  We have received a gift from our Benedictine foremothers – Saint Scholastica, Mother Benedicta Riepp, and the women who founded Annunciation Monastery.  It is our task to take this gift and pass it on to the professed members who have come to join us and will continue to come, along with the oblates who are called to live the lay Benedictine life, our monastery employees who witness our lived expression of the life each day, the women and men who minister in our sponsored institutions, and all those we come in contact with daily. 
May we continue to journey forward, day by day, with each other as we strive to gain wisdom and understanding while becoming the monastic women we are called to be.