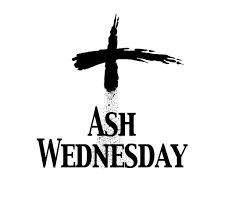 Ash Wednesday Reflection
February 26, 2020
Sister Nicole Kunze, Prioress
In our ongoing formation study of the promise of stability, most of us have or will soon read the article by Sister Lenora Black.  I want to focus on one of the phrases she uses from T. S. Eliot's poem Ash Wednesday – "Teach us to sit still".
What does it mean to sit still?  Looking around at us, a group of mature women, we have successfully mastered the ability to sit in one place, relatively still, for some amount of time.  I wanted to start this reflection with a story about sitting still, so I searched for a story on the internet using Google.  I didn't find a story, but I found a video exercise for leading children through an exercise of sitting still by pretending to be a frog.  The narrator of the video mentioned how the frog sits still aware of what is going on around it but not reacting to it.  The frog sits still and breathes.  I'll go out on a limb and say that T.S. Eliot wasn't thinking of young children and frogs when he wrote that line in his poem. 
Teach us to sit still
In today's world, sitting still doesn't seem to happen much.  Everyone seems to be in continual motion.  Who has time to sit still?  What does one accomplish while sitting still?  Our society seems to reward those who are always doing something and are never at rest.  We need to resist the urge to follow that cultural tendency.  I believe we need to cultivate a physical stillness.  There is something about letting our bodies rest and settle down that can bring some calm and peace to us.  This type of sitting still is necessary in order to help us move towards an inner stillness, where we allow our minds to sit still, too.  It is in this inner stillness that we will encounter God.  Father Michael Casey offers the following thought on prayer and becoming still:
"More often than not the silence experienced in prayer is the simple act of waiting for the body and mind to become still so that God's voice may be more clearly heard."
We are fortunate that our horarium provides us with several opportunities each day to stop what we are doing and sit still.  I know it is the prompting I need to call me from whatever I'm doing, to let it be and go to the chapel for prayers.  Our individual times of lectio are also moments where we sit still, allowing the word of God to sit still inside of us.     
Just physically sitting still doesn't ensure that our minds will be still and give us an opportunity to hear God's voice.  Distractions will come up.  It doesn't mean we have failed.  It may be that physically sitting still is all we can do at that moment.  We need to let that be, trusting that the inner stillness will come as we continue working at it.  That inner stillness is what allows us to bring our head and heart together, listening for the ways God is calling to us. 
Teach us to sit still
This outer and inner stillness assists us in our promise of stability.  Our readings and discussions on stability are helping me realize that living stability means facing the challenges of community life and not running away from them.  I need to sit still with the problem, as uncomfortable as it may be, and allow the transformation that needs to take place inside of me happen.  I need to continually work towards being present and engaged with the situations and people I find most challenging.  It can be too easy to walk away and not stay engaged in the process. 
As we heard in the reading from Chapter 49 of the Rule, Benedict asks us to "add to the usual measure" during the season of Lent.  I would encourage each of you to take more time this Lent to sit still.   For those of us with a more active schedule, taking the time to sit still can provide our souls a chance to catch up with our bodies.  An inner stillness can't happen if we are always moving, always busy.  For all of us, Lent is a time that reminds of our call to continuing conversion.  Allow your body and mind to become still so you may hear what God has to say to you. 
To conclude, I offer you a verse from Psalm 37 – Be still and wait for the Lord.  Make time to sit still and wait for the Lord this Lenten season. 
Resources
Black, Lenora.  "To Care and Not to Care." Spirit & Life, January-February 2015, p. 11 – 12. 
Casey, Michael.  Grace:  on the journey to God.  2018, Paraclete Press, p. 173.