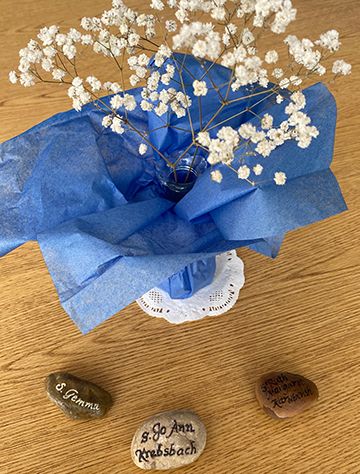 Reflection for Anniversary of the Dedication of Annunciation Monastery Chapels
Sister Nicole Kunze, Prioress
May 13, 2020
Each of us, as a member of Annunciation Monastery, has a stone with our name on it.  Whether we received it at the burning of the mortgage of the original monastery or as part of our first profession, it indicates we are a part of this community.
This past Sunday's second reading from the first letter to Peter referred to each of us being living stones, chosen and precious in the sight of God.  I found a poem by Dave Hopwood entitled God's Dry Stone Wall*, inspired by the reading from 1 Peter, that ties together our named stones, the stones in the walls of our monastery chapel, and our call to be living stones.  Let me share an excerpt of the poem with you:
            So many stones,
           Small, large, smooth, jagged, new, old,
           Fitting into this craggy, jigsaw body,
           Different sizes, different shapes.
           All vital, all part of a bigger picture,
           Not a construction designed to keep others out,
           But a welcoming, generous temple,
           A kind of place to call home,
           A lighthouse, a divine landmark,
           A place where all varieties of stone may fit together. 
As we sit here in our monastery chapel, we can see all the different shapes, sizes and colors of the rocks that make up the walls of this space.  Most of us have heard the story of how the craftsmen who placed the rocks took their time and chose how to arrange them.  Each rock has its place, it serves a purpose.  It is a vital part of the bigger picture.  We sisters are the "living stones" of this community.  We are small, large, new, and old, and like the rocks in the chapel walls, we too have our place and purpose.  We all come together to make this place, this community, home.    
This chapel is a place where God lives and we know that God dwells in the community that assembles here.  It is when we are gathered here with our monastic community and all the guests who join us, that we are truly the church.  We look forward to the day when we can welcome others back into our chapels after this long absence due to the virus.  We are made one with the Lord and with one another.  As we gather here day after day after day, living out our promises of obedience, stability and conversatio, building upon the foundation of the apostles and prophets with Christ Jesus as the cornerstone, may we listen with the ear of our heart to the voice of the Lord calling to us in this place. 
*https://engageworship.org/ideas/gods-dry-stone-wall-poem#