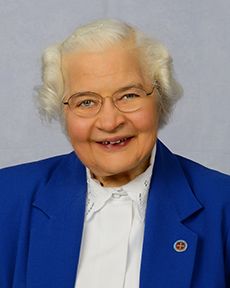 Reflection for Feast of St. Benedict
July 11, 2020
Sister Nicole Kunze, OSB, Prioress
Gospel – Matthew 19:27-29
In today's Gospel reading, Peter asks Jesus a question that I believe many of us may have asked as we entered community or at some other point along our monastic journey:  what will there be for us?  When we start something new, it is helpful to know where it will end up.  If it is unknown, that can produce feelings of anxiety and uncertainty within most of us.  We like guarantees, at least I do. 
Saint Benedict, an insightful man when it came to human nature, seemed to anticipate this question from his own followers.  In the prologue to the Rule he shares with his followers what they need to be prepared to do:  give up your own will, perform good works, do good deeds, and faithfully observe the Lord's teaching in the monastery until death.  By doing this, Benedict tells us we will then deserve a share in God's kingdom.
Going back to the Gospel reading, Jesus does tell us what we will inherit in the end — eternal life.  He points to all the things the disciples have given away or turned their backs on – mother, father, siblings, houses, lands – and promises they will receive something much greater in return.  Saint Benedict asks the same of us when we commit ourselves to the monastic way of life.  We turn our backs on the ways of the world.  But we continue on, knowing that if we keep this little Rule with Christ's help, we will receive some heavenly rewards.
Today we celebrate Sister Lawrence and her 60 years of following the way of Saint Benedict in this community.  We also remember our own professions today.  We recall what we sang out as we offered ourselves to God and the community:  "Receive me, O Lord, according to your promise and I shall live.  Do not disappoint me in my hope."  We ask the Lord to receive the gift we are offering, the gift of our lives, and we acknowledge what is in it for us:  eternal life.  That is what Jesus and Benedict are offering to us.  Let us prefer nothing whatever to Christ and may he bring us all together to everlasting life. 
*Note: Sister Elizabeth Novy will celebrate her 80th anniversary of monastic profession at a later date. We love you, Sister Elizabeth. 80 years!!! God bless you!