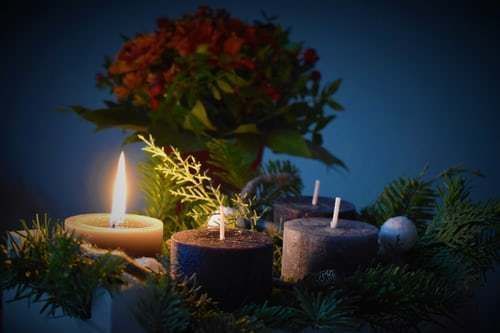 Opportunities to Love – A Reflection for the First Sunday of Advent
by Sr. Marena Hoogland, osb
The parable in today's Gospel feels oddly familiar to me, though I have never been the master nor servant in charge of a house. However, I am one of seven children raised on a dairy farm, and if Jesus were to change the setting of the parable just a bit, it might sound something like this:
Be alert. You do not know when the time will come. It is like a mother running errands. She leaves home giving each daughter her own work. You do not know when she is coming. May she not come suddenly and find you have neglected your responsibilities. So too will it be when the time comes, and I say to you all, "Watch."
Suddenly, it is no stretch of the imagination for me to know what will happen when the owner of the house, namely, my mother, returns from her travels. More often than I care to admit, the tasks assigned to my sisters and me, typically washing dishes, doing laundry, and checking on the water tank for the cows, were far from completed. In fact, sometimes they were far from even being started. Of course, as soon as we heard the car coming up the driveway, we would scramble to make it seem as though we had been hard at work while she was in town, but the unwashed dishes, dirty laundry, and thirsty cows told a different story. Regardless of whether or not we had successfully completed our tasks, and, perhaps, to our dismay, Mom would almost always leave a list of chores each time she left the house. In retrospect, I see these lists not simply as a way to increase our responsibility, but as an opportunity to grow in love, and I believe that is what we are being invited to today. 
Our readings begin with a question from the prophet Isaiah: Why do you let us wander, O LORD, from your ways, and harden our hearts so that we fear you not? It seems like a reasonable question. I think it would be pretty nice if God didn't let us wander too far and kept our hearts from hardening. It would certainly be easier. However, as Pope Emeritus Benedict XVI said, "…[W]e were not created for an easy life, but for great things, for goodness." Fortunately, God sees the possibilities that lie within us and is prepared to help them come to fulfillment. We are the clay and God the potter. Throughout our lives, the choices we make and challenges we face provide the chance to become more Christ-like, to choose to love and thus become more like the image of Love Incarnate. And although on occasion, or multiple occasions, we might fail to choose love, every day, hour, and moment God, just like a loving parent, grants us the grace to try again. 
Father Henri Nouwen writes: "We seldom realize fully that we are sent to fulfill God-given tasks. We act as if we were simply dropped down in creation and have to decide to entertain ourselves until we die. But we were sent into the world by God, just as Jesus was. Once we start living our lives with that conviction, we will soon know what we were sent to do." This level of responsibility, God-given tasks, might seem intimidating at first, but just as my mom left notes to guide my sisters and me, St. Paul reminds us that God has "enriched us in every way… so that we are not lacking in any spiritual gift." Yes, God has created us for great things, for a goodness that is unattainable on our own, but God also provides for us the guidance, grace, and gifts to help us reach our potential. 
 
And what a time to be reminded of all this? The first week of Advent, the beginning of a new church year, and Jesus tells us to "Watch!" Watch for the tasks God places in our lives. Watch for the ways God provides for us and for the ways we can extend that unto others. Watch for the times to grow in responsibility. Watch for Christ in the world, in the stranger and the friend. Watch for the opportunities to grow in love. For that is the task God has given to us.