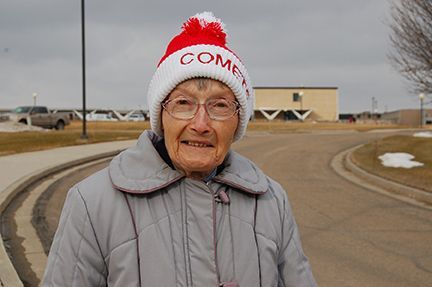 Reflection for Sister Elizabeth's Wake
By Sister JoAnn Krebsbach
December 4, 2020
"The souls of the just are in the hand of God, and no torment shall touch them.  They are in peace."  These words from tonight's reading—chosen by Sister Elizabeth—fit her perfectly.  Her suffering is over and she is at peace "in the hand of God."
There is so much to say about Sister Elizabeth, our last founding sister who lived to celebrate her 104th birthday.  She was always ready to share stories about her life, whether it was here at the breakfast table, telling us how she never liked oatmeal but had to eat it every day when she was growing up, in town at Prairie Public's Story Corps having a conversation with Sister Nicole, to be archived in the Library of Congress, or at the University of Mary being interviewed for a video to celebrate the dedication of Founders Hall.  She had a great memory and was happy to tell the stories.
One of the stories I remember is how she happened to leave her home in Wing to attend high school at St. Mary's in Bismarck, become a teacher, and, eventually, go to St. Benedicts Convent in Minnesota and become a Sister.  Apparently, she wasn't very successful at household duties or duties on the farm.  Although she was quite good at "shepherding" the cattle out in the pasture, she said she never learned to stack hay or milk cows no matter how hard she tried and would always end up crying.  One night her parents were talking, and her sister heard her dad say, "Lizzie will never make a good farmer's wife.  She says she wants to be a teacher, so why don't we send her to high school."
As we know, she became a successful, well-loved teacher, receiving a number of awards and rewards throughout her 54 years of classroom teaching and many years as a volunteer reading specialist.  She often reminded us of her 67 years in the classroom    When She was given the Distinguished Teacher award, the news article quoted her as saying, "I believe it is almost impossible to teach a child without loving him or her."  She truly loved her students, and the feeling was mutual.
 At the celebration of her 85th birthday, the principal of Cathedral School described Sister Elizabeth's wisdom as, "Do all things in God's name."  That is what she did, and with all her work and responsibilities, she knew how to stay healthy.  As we all know, she went on a daily walk.  Here at the monastery she would walk up to the bench and sometimes beyond it.  When Sister Nicole's dad brought in the beautiful cement bench, she began to claim it as her own and no one objected.   She shared that at the end of each day, following the example of Pope John XXIII, she had as her evening prayer: "God, I've done all I can for one day; now I leave my concerns and worries to you."
Sister Elizabeth was also a specialist in helping the children grow plants, first to learn their math and later to make money for the God's Child Project.  As a reward for all she did for the project, she had the opportunity to go to Guatemala—at the age of 83.  It was her first time outside the United States, and she was grateful that she had accepted the gift.  I think she also had a "trip" in a hot-air balloon when she was 90.  I never heard a lot of details about that trip, but I'm sure it took a lot of courage, especially for someone her age.
Along with her gifts as a teacher and her dedication to teaching, Sister Elizabeth was a faithful community member, a good example for us of following our guiding principles.  She always responded to what was needed.  In her retirement from teaching and volunteering at school, she moved to the convent at 506.  Sister Barbara said one of the requirements to live there was to share in the cooking.  Elizabeth had never cooked, but she quickly learned and eventually enjoyed it and kept her own rather large collection of recipes—not totally organized, as I remember. Sister Barbara says she became quite a good cook and that she read recipes as one would read a book.  Cooking was a skill she and Sister Jeanette continued when they moved to St. Alexius Convent.  I heard they took turns being chief cook and assistant; apparently it was not a good move if the assistant tried to take over any of the chief cook's duties.  They worked well together as long as each one kept her proper place.
One thing I was impressed with when Sister Elizabeth moved to the monastery was her faithfulness in attending and participating in community prayer.  She sometimes came in at the last minute, but she was always there unless some serious condition kept her from being present. She also enjoyed recreating with the sisters.   At 506 she enjoyed playing cards with Sisters Jeanette and Barbara and occasionally with Barbara's mother when she came to visit.  She struck up a pretty good friendship with Barbara's mother as they both had August birthdays and were the same age for 3 days.  Of course, we can't forget the games of Scrabble that she and Terence played at least twice a day to "keep their minds active."  It's obvious that it worked for both of them.
Sister Elizabeth was close to her family.  Her sisters and their families came to visit quite often, and Sister Elizabeth attended the Dunne family reunions and Czech festival in Minnesota. I believe her niece Kathy made that possible for her more than once.   I always heard about her Czech background, but it sounds like there was some Irish in the family too.  Kathy also planned and organized a grand birthday party for Elizabeth's 100th birthday.  Kathy wanted it just for family so they would have a chance to visit with her.  Sister Elizabeth was thrilled to see all her nieces and nephews who came to celebrate.  Later, Elizabeth insisted on another party so all her friends could come too.  Both parties were wonderful, well-attended events.  I think she also received more than 100 birthday cards that year.  It kept her busy and happy.
Sister Elizabeth, as we say good-bye, we thank you for sharing your long, faith-filled life with us.  We love you, we miss you, and we are happy for you that you are now at peace in the hand of God.