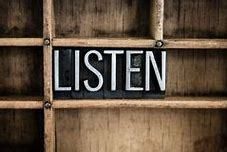 Reflection for the Second Sunday Lent, February 28, 2021
 
"Listen… "
The readings from Genesis and the Gospel today seem to be in sharp contrast. But are they? What brings these two readings together?
We meet Abraham, our Father of Faith, friend of God, on a mountain top, ready to obey God's command to sacrifice his only son, Isaac. Then a voice, calling to Abraham, saved his son from death. The voice of the Lord's messenger was heard again, renewing God's promise to give Abraham descendants, who will flourish and live in a land of blessing.  
In Mark's Gospel, we meet Jesus, God's only Son, on another mountain top. Here Jesus, with three friends, Peter, James and John, is transfigured, and reveals the glory of the union of Divine and Human. A voice is heard, "This is my beloved Son. Listen to Him." 
Last Sunday we contemplated Jesus undergoing the trials of the desert in preparation for his ministry. Today Jesus is confirmed in his ministry to proclaim the reign of God. The voice that was heard declared this confirmation, "This is my Son. Listen to Him." Fr. Demetrius Dumm notes that "the light came from within Jesus as his face glows in a full awareness of the surprising nature of the mission that his heavenly Father assigned to him." Moses and Elijah,  appearing with Jesus, are sign of further affirmation of Jesus' ministry. Moses heard God's voice from the burning bush and on Mt. Sinai as he learned of his mission. Elijah experienced God's call to his ministry in the still, small voice on the mountain of the Lord. Abraham, Moses, Elijah responded in loving fidelity to God's call to accomplish God's will.
The three privileged apostles seem at a loss, hardly know what to make of what they are witnessing. Peter finds words which seem to indicate he is aware of the vision's unusual and unique moment. As it is, this moment of the God-self revealing the union of Divine and human is the invitation to be one with this wonderous mystery. We, too, privileged with faith, hear the Gospel story and acknowledge the invitation to become more fully aware of the self-emptying of both human and divine, each revealing the breathtaking dignity of the other. 
This revelation or theophany calls us to a "willful self-emptying" as Ilia Delio writes. This "self-emptying is not nothingness, but allness, oneness." "This oneness is the deepest core of oneself beyond thoughts, words or concept," she continues, "the level at which there is no separate 'I'." 
It seems to me that this is the goal of our lectio: to empty oneself of self, to allow the Divine to dwell within, that we might be transfigured. The time we give to Lectio is to open our hearts to listen; to hear the voice that calls out to us each day: If today you hear his voice, harden not your hearts. The time we give to Lectio increases our desire to contemplate the fullness of the Divine, knowing our human desires, needs and wants and the call to become empty of these and be filled with the presence of God; to live in the Divine presence always; to walk in the presence of the Lord. Delio states further, "Only when we experience this emptiness can our innate compassion arise." Only then will we know a "deep awareness of our oneness with God, our neighbor, a consciousness of belonging to the whole."    

Lent is a time for listening, time to experience a kenosis, a self-emptying. We are invited to listen deeply, to be more fully aware of our own calling. As Benedictines we are familiar with the Benedict's urging:  Listen carefully, my child, to my instructions and attend to them with the ear of your heart. For us, the monastic dimension of human life is grounded in the image of God. The single-hearted attention on the presence of God is to allow the Word of God into the center of our lives, listening to the Word and listening to what the Word calls us. Our listening, then, must come from a deep, gentle space within. God's grace enables us to see the Christ transfigured in each other.

Last Tuesday in the opening prayer of the Eucharist we prayed that "through the effects of our Lenten discipline our minds may be radiant in your presence with the strength of our yearning for you." May we find ourselves more attuned to listening attentively, more fully united to Christ this Lent, and in this renewed awareness may our Easter gift to each other be the radiance of Christ transfigured.
Susan Lardy, OSB