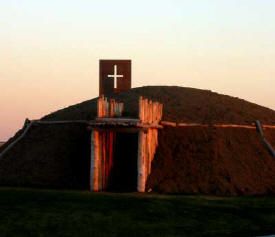 Annunciation Monastery rests on the bluffs by the Missouri River – on the Lewis & Clark trail, in Bismarck. Those who have experienced the spectacular view from this site have expressed comments such as, "A view beyond mortal words."
Perhaps this very view was enjoyed by the eyes of famous explorers Captain Meriwether Lewis and Captain William Clark. We welcome you to stop by and see our monastery and learn about our fascinating history which started in North Dakota not too long after Lewis & Clark ventured into "The Unknown."
We refer to our founding sisters as pioneers into the unknown as well, as they were really the first women in the rugged Dakota Territory to establish formal education and healthcare over 130 years ago.
About This Land
Most of the monastery land has never been plowed, leaving the chokecherry, buffalo berry, and other native trees, grasses, and wild flowers. They are descendants of those that were here when the Corps of Discovery passed this way 200 years ago.
Where are We Located?
Annunciation Monastery is approximately 7 miles south of Bismarck. Just follow Airport Road, which winds into University Drive until you see our sign. Our 100 foot landmark bell banner designed by the famed architect, Marcel Breuer, can't be missed. Our monastery is located directly south of the bell banner.