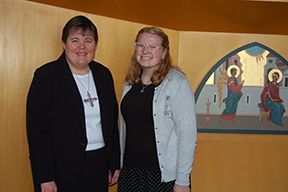 Discernment Opportunities
Do you ever wonder if God is calling YOU to become a Benedictine Sister of Annunciation Monastery?
Participate in the vibrant prayer and community life of the Benedictine Sisters of Annunciation Monastery! Our discernment opportunities offer a glimpse into our lives and an opportunity to meet our Sisters.
Take time to discern the most important decision of your life - your vocation.
Discernment is a process of discovering God's direction in the concrete reality of our daily lives. Through discernment, one can discover God's presence in the depths of our being.
Experience the Liturgy of the Hours (daily prayer) with the sisters, reflection, recreation, conversation and meals with the sisters. No charge. Pre-registration is required.
Note: If you would like to select a time frame that works best for your schedule, please contact Sister Idelle Badt, vocations director, at (701)355-8965 or e-mail: vocations@annunciationmonastery.org