Bell Banner of Annunciation Monastery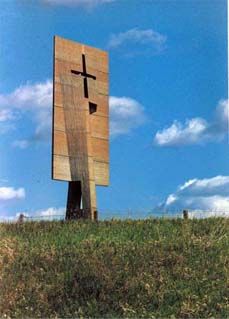 For over 130 years in Bismarck, North Dakota, Benedictine Sisters have gathered in prayer every morning and evening to give praise to God and to pray for the people of this region and the world.
The bell banner, a symbol of strength, stability, vision and faithful presence, stands sturdy in the prairie soil; deeply rooted as are the sisters of the Annunciation.
An architectural masterpiece, the bell banner was designed by world-renowned architect Marcel Breuer.
The three bells; Hilary, Joseph and Mary, faithfully call the Benedictine sisters to prayer each day. The tolling of the bells reminds us of God's presence in our world and invites all who hear to echo God's message of infinite love and peace.
The open cross at the top of the bell banner was designed to represent the risen Christ and let the North Dakota winds sail through. As if God is openly smiling, a shadow of the cross is cast on Our Lady of the Annunciation Chapel during the winter solstice.
Bell Banner of the Benedictine Sisters of Annunciation Monastery