Oblates of Annunciation Monastery
The Oblates of Annunciation Monastery are Christian individuals or couples who have associated themselves with a Benedictine Community in order to enrich their Christian way of life.
They shape their lives by living the wisdom of Christ as interpreted by St. Benedict. They seek God by striving to become holy in their chosen way of living. By integrating their prayer and work, they demonstrate Christ's presence in society.
Oblates of Annunciation Monastery concern themselves with striving to be what they are, people of God. Their prayer life flows from this awareness, as does their willingness to offer themselves for the service of God and neighbor to the best of their ability.
These men and women promise to lead an enriched Christian life according to the Gospel as reflected in the rule of St. Benedict. In this way they share in the spiritual benefits of the women and men of Benedict who are dedicated to the monastic life by vows.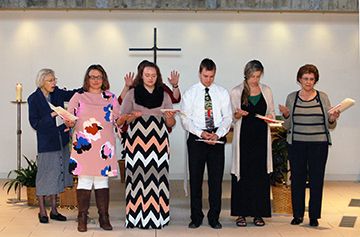 Oblate Meeting Information 2020-2021
We ask you to please adhere to the COVID-19 safety recommendations - please wear a mask and keep a safe distance from one another.
Thank you!
Welcome Back, Oblates of Annunciation Monastery and Those Interested in the Program
Each year the monastic community follows a topic for ongoing formation. This program recognizes that we are always beginners, always learning and being open to God's formation in our lives. The curriculum for 2020-21 is now being developed. The oblate formation program both mirrors and adapts the materials used by the sisters. Because of fluctuating safety recommendations for gathering, we plan to provide formation materials on a month-to-month basis.
For more information on the Oblates of Annunciation Monastery, please contact our Oblate Director, Sister Rosemary DeGracia, at (701)255-1520 or by email: oblates@annunciationmonastery.org
If you are not on our oblate mailing list and would like a copy of the most recent newsletter, please let us know.
Thank you and God bless you! We keep you in our prayers.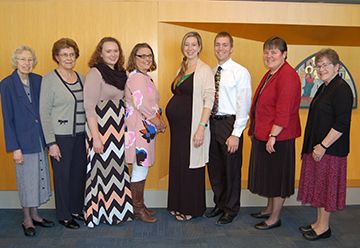 Archived Oblate Newsletters
For more information on Benedictine Oblates visit: