Greetings from the Benedictine Sisters of Annunciation Monastery!
*Please note: This is our current appeal for the spring of 2023. Thank you!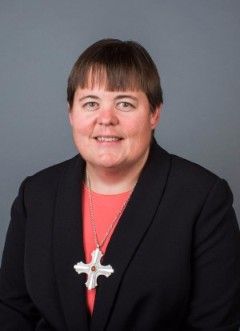 Spring 2023
Dear Friends of the Benedictine Sisters of Annunciation Monastery,
When will things start to get any easier? That is a question we may all be asking in these challenging times. We had hoped Covid, and its variants, would be long behind us by now. We hoped the division of political parties would close and we could work together as a more unified force. We hoped for peace in our world and the news keeps broadcasting tragedy after tragedy. But, I wonder, if we open our hearts and minds to God's eternal promise, that we might experience glimpses of God and heaven beyond what we experience here on earth.
As we reflect on Jesus' life on earth, consider if he ever wondered if things would get any easier? He was met with opposition, jealousy, and hatred. In his holy ministry of teaching and healing, Jesus was not distracted by things of this world. In the midst of it all, Jesus knew the hills and valleys would be worth it. Jesus trusted God. Jesus continued every day, even though things were not easy. He experienced the joys and sorrows of life, like we do, for he was both human and divine. And in the darkness and the light, Jesus praised God. He trusted God--our eternal hope.
God gave us the most incredible gift we could ever receive through His Son. With our hearts attuned to this gift, we can find strength and peace. Philippians 4:6-7 (ESV) reminds us, "...do not be anxious about anything, but in everything by prayer and supplication with thanksgiving let your requests be known to God. And the peace of God, which surpasses all understanding, will guard your hearts and your minds in Christ Jesus."
This Lent, as we reflect on Christ's journey to the cross, let us always remember that there is so much more. Let us remember that victory came from the cross. In our sufferings and in our joys, we are never alone. Jesus is right there. This life on earth is temporary. As we praise God each day, we are confident that our loving God is in control. Jesus has turned the darkness to light so we can face each day with hope in the promise of everlasting life.
May the Good News of Jesus' resurrection fill you with glorious Easter joy.
Gratefully,
Sister Nicole Kunze, Prioress
and the Benedictine Sisters of Annunciation Monastery
P.S. Thank you for your generous support for our elevator updates. We are almost halfway there. If you feel called to help us reach our goal, please donation online to "Sisters Greatest Need" or send donation to: Annunciation Monastery, Attn. Mission Advancement Director, 7520 University Dr., Bismarck, ND 58504-9619.