Greetings from the Benedictine Sisters of Annunciation Monastery!
*Please note: This is our current appeal for the spring of 2021. Thank you!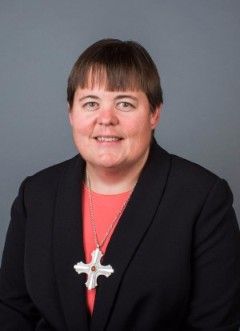 Spring 2021
Dear Friends of the Benedictine Sisters of Annunciation Monastery,
As I reflect on the past year of the pandemic and the uncertainty and losses that have impacted so many, I am fixed on God's promises for our future. Hopelessness seems to be a common theme for these trying times. We are tired. We have suffered loss. We may feel broken. In Jeremiah 29:11 we find comfort in this reassurance,
"For I know the plans I have for you," declares the Lord,
"Plans to prosper you and not to harm you, plans to give you hope and a future."
Jesus' disciples felt hopeless after His death on a cross. They were afraid of what the future would bring. As they encountered the Risen Christ in various forms after the resurrection, their belief deepened. Their fears subsided. With prayer we can also experience the peace of Christ.
Over the past year our monastic community experienced the quarantines, lockdowns, and a few positive cases. Remarkably, and thankfully, nobody became seriously ill. As Benedictines have done for centuries, we continued to gather three times daily to pray. We were physically distanced in chapel and at mealtime. Gratefully, the framework of prayer keeps us centered in God's promises each day. You were in our prayers then. You are in our prayers now.
The year of pandemic reminds us that whether we are with others physically, or through online interaction, or in the quiet of our own spaces, prayer is a ministry. It is an endless relationship with our faithful and loving God. It cannot be stopped by a pandemic. Every prayer, every sacred encounter, is an extension of God's love. We can find solace in God's love during this Easter season. And we can trust in God's divine plan that gives us hope and a future.
May the Good News of Jesus' resurrection fill you with deepened faith, renewed hope, and glorious Easter joy.
Gratefully,
Sister Nicole Kunze, Prioress
and the Benedictine Sisters of Annunciation Monastery
We invite you to send us your prayer requests by using the Prayer Request link on our website or by calling 701-255-1520. Our sisters will pray for your intentions throughout the Easter season.