Sr. Barbara Weber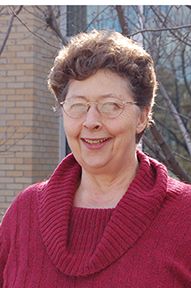 Sister Barbara Weber, daughter of Leo and Mary Weber, grew up on a farm northeast of Hague, N.D. She is the oldest of four sisters and four brothers.
She graduated from St. Mary's High School, Bismarck, in 1961. In 1977, with a degree in social work from Mary College, she began work as a social worker at St. Alexius Hospital. In 2005, with a change in ministries, she continued her work at St. Alexius as a pastoral assistant on the telemetry and intensive care unit where she offered a comforting presence to patients and staff.
In her spare time, Sister Barbara enjoys reading and writing letters to family and friends. She says the past 50+ years have gone by quickly, with each passing year instilling an even deeper appreciation for Mass and daily common prayer with the sisters.
Sister Barbara assists in numerous ways at Annunciation Monastery, taking sisters to appointments, and clipping stamps to send to communities who sell them to aid the poor.