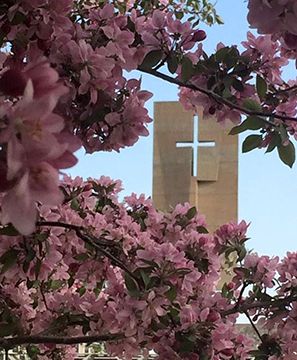 Seasons of Uncertainty & Inequality Prayer Service at Annunciation Monastery
The public is invited to an outdoor, ecumenical prayer service to lift one another up in love and unity in these times of pandemic and racism. The prayer service will be held on Wednesday, June 17, at 7:00 p.m. on the lawn in front of Annunciation Monastery, 7520 University Dr., Bismarck, ND, 58504.
Sister Idelle Badt, a Benedictine Sister of Annunciation Monastery, and the organizer of the prayer service, says she has been feeling like the world is imploding around her. "In the midst of a pandemic and such division and racism, I contemplated a conversation I had with Father Jerome Kautzman and Father Marvin Klemmer. They reminded me that the best thing we can do right now is pray. With prayer and conversion of hearts and minds, we can do great things. God can do great things." 
This contemplation brought Sister Idelle the idea of holding a peaceful gathering, at a holy place, where people of all faith backgrounds can come together and pray. "This is nothing political, strictly a display of positivity, unity, and love for all of God's children in this nation. During the challenges of the COVID-19 pandemic and racial unrest, we want to honor the health care workers, students, teachers, and all who are affected by racial inequality at this time," Badt explains. Speakers from the civic and religious community will offer inspirational talks on topics such as: racism and love, death and not being able to be with loved ones, health care, grief, being close to God in challenging times, and the marginalized.
Attendees should bring chairs or blankets to sit socially distanced on the monastery lawn. Please be sure to socially distance yourselves and feel free to wear masks. There is no charge to attend.
For more information, contact Sister Idelle at 701-989-5195