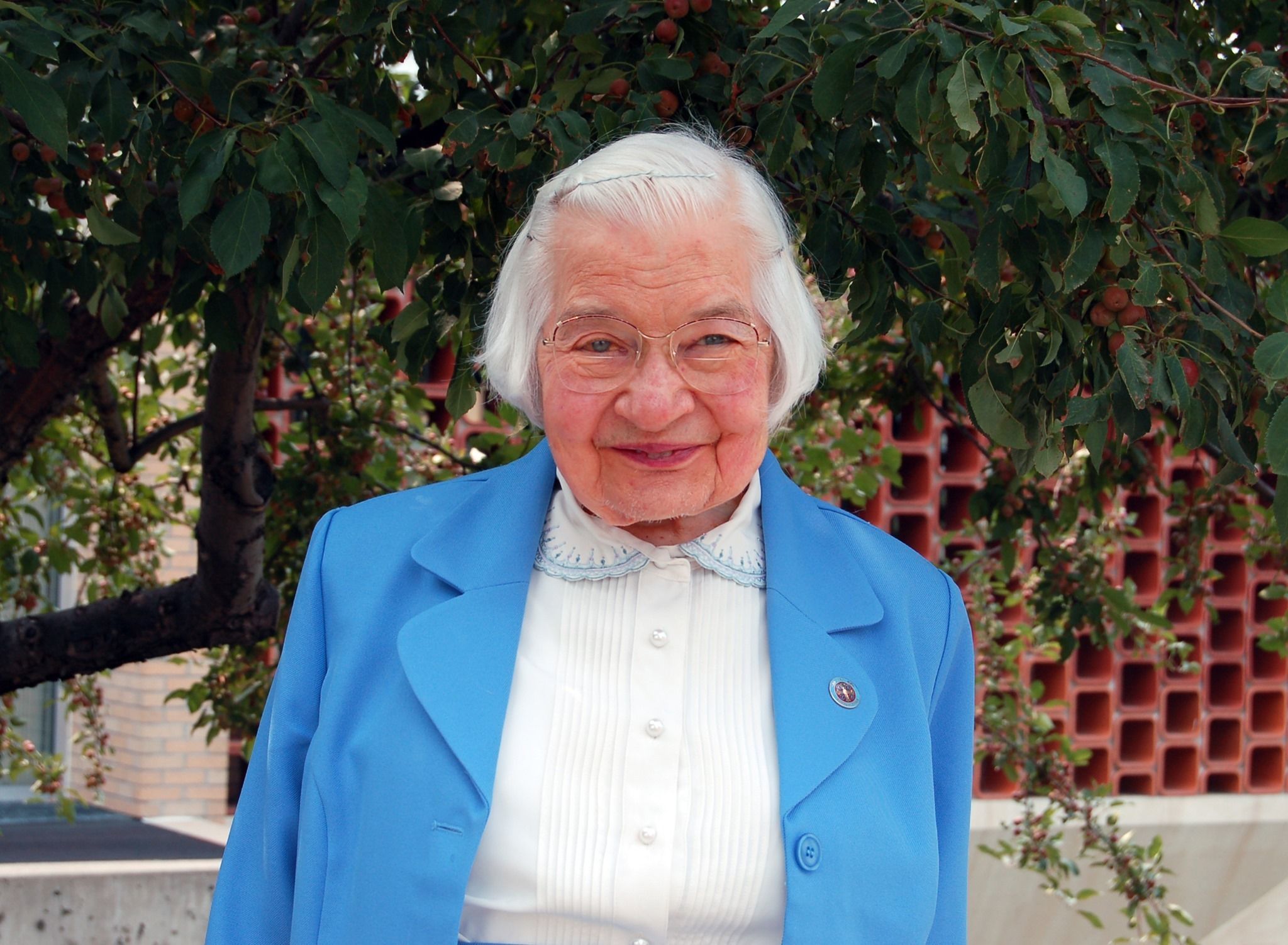 We are having an appreciation dinner for Sister Lawrence this evening to honor and express our gratitude to Sister Lawrence Fischer, who has devoted much of her life to the wise stewardship of fiscal resources and managing investments for Annunciation Monastery.

Sister Lawrence first met Benedictine Sisters at vacation Bible school. She was fond of the sisters who taught there. After graduating from Rhame Public High School in 1955, she furthered her education at St. Benedict's College in St. Joseph, Minn., at the encouragement of a priest who recognized her gifts in math and business. In addition to her studies, she regularly joined the Sisters of St. Benedict's for Mass and Vespers.

A turning point in her life occurred when she attended a novice reception for her friend who was joining the Benedictine Sisters of Annunciation Priory (now Annunciation Monastery). Another friend asked if she would be a novice in next year's class. Sister Lawrence recalls saying, "Well, yes!" without a moment's hesitation.

Sister Lawrence kept her word. She became a postulant in 1958, a novice in June of 1959, made temporary vows July 11, 1960, and perpetual monastic profession on July 11, 1963. Mother Edane Volk, who was prioress at the time, asked Sister Lawrence to try teaching. She attended Mary College and received her BA in theology/philosophy and a double minor in business education and math. During this time Sister Lawrence did her practice teaching. She taught math at Cathedral School, St. Mary's Grade School, St. Mary's Central High, and Priory High School in Bismarck.

She later worked at Mary College where her eye for detail and mind for business was a perfect fit for the ministry of accounting and bookkeeping. Sister Lawrence helped with the annual audit and with bookkeeping. She started the University of Mary's financial aid office, was business manager, and ran the bookstore.

In 1970, Sister Lawrence was asked to serve in the business office at Garrison Hospital in Garrison, ND. She returned to Bismarck in 1971 and worked at Annunciation Priory as bookkeeper and assisted with human resources and maintenance. She returned to school at Creighton University, Omaha, NE, in 1977 and earned her MBA. She then returned to Annunciation Monastery where she was appointed treasurer for the monastic
community, a position she held from 1978-2013. Sister Lawrence also served on the Board of Directors at St. Alexius Medical Center for 27 years.

To this day, Sister Lawrence says "Yes" to duties as requested. She has now retired from the business of managing investments for Annunciation Monastery, but continues to serve in other ways, including making travel arrangements for the sisters.

*We are deeply grateful to you, Sister Lawrence, for your many talents and the way you generously serve others. We thank you, we pray for you, and we love you!