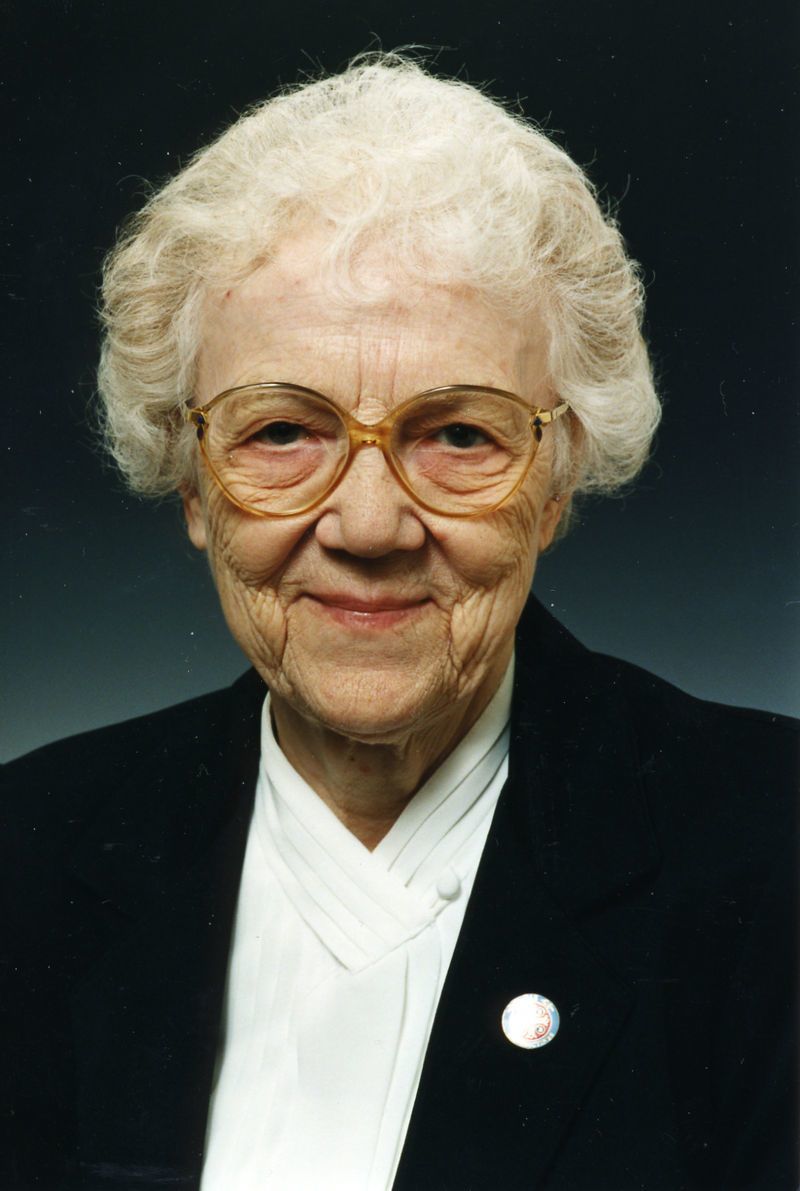 Sister Bernadette Fisher obituary
Sister Bernadette Fisher, 92, a founder of the Benedictine Sisters of Annunciation Monastery, Bismarck, entered eternal life Dec. 20, 2009, at a local medical center.   
Sister Bernadette (Bernice Louise) was born Jan. 5, 1917, in Dickinson, ND to Earl and Bernadette (Brown) Fisher. The oldest of six children, she grew up in an atmosphere of a loving family.  Her acquaintance with the Holy Cross sisters in Dickinson attracted her to religious life. The day she made her first Holy Communion she prayed "to be a sister." This desire never left her.
She became familiar with Benedictine sisters when she attended St. Benedict's College in Minnesota. She entered St. Benedict's Monastery, St. Joseph, Minn. in 1936 and made monastic profession July 11, 1938.
Sister Bernadette was a teacher for more than 45 years. She taught a variety of elementary grades and also served as principal in some schools.  A much beloved teacher, she often went beyond the call of duty to help her students.
She taught at St. Joseph School, Christ the King School, Mandan; St. Joseph's School, St. Patrick's School, Dickinson; Cathedral Grade School, Bismarck, and St. Lawrence School, Flasher.  She served as principal of St. Michael School, Canon City, Colo., Cathedral Grade School and as assistant superintendent and principal of the elementary schools in the Trinity School System in Dickinson.
After retiring from teaching, Sister Bernadette worked at St. Alexius Medical Center where she clerked in the emergency room, took care of the Lifeline program, the infant car seat program and established the medical library. In the library she helped medical personnel and students with simple, hands-on research projects.  Sister Bernadette found these experiences challenging and revitalizing.  People who worked with her appreciated her excellent organizational skills. 
Sister Bernadette also served as the secretary for the monastic community, as a switchboard operator and enjoyed five years at St. Alexius Convent doing meal preparation.  
Her hobbies included embroidery, reading, writing letters working crossword and jigsaw puzzles and collecting cancelled stamps to help missionary activities.
Sister Bernadette was a friend to many and a faithful monastic community member. She rarely missed community prayer or a community event despite being in ill health.  She had a grateful, generous and optimistic spirit, always willing to help wherever she could.  Deeply devoted to God and to others, she will be missed by those whose lives she touched.
She is survived by her brothers, Father Martin, Billings, Mont., Deacon Donald, Tucson, Ariz., nieces, nephews, many dear and loving friends and the Sisters of Annunciation Monastery. 
Memorials may be made to Annunciation Monastery.
To share memories of Sister Bernadette, please visit www.parkwayfuneral.com and sign the online guest book. (Parkway Funeral Service, Bismarck)