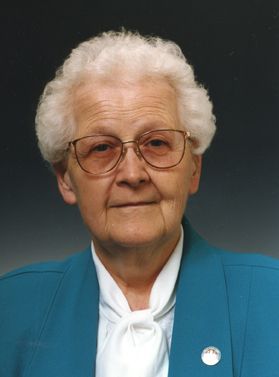 Sister Neola Winter, 90, a member of the Benedictine Sisters of Annunciation Monastery, Bismarck, entered eternal life Saturday, October 1, 2011, in a Garrison Memorial Hospital.
Mass of Christian Burial will be held at 4:30 p.m. Tuesday, Oct. 4, 2011, in the Chapel of Annunciation Monastery. Visitation starts at 4:30 p.m. today (Sunday) at the monastery and continues until the time of the funeral. A wake service is scheduled for 7 p.m. Monday in the monastery chapel.
Sister Neola was born July 12, 1921, in Bismarck to Leo and Christine (Lacher) Winter. She was the second of three daughters. She grew up in Bismarck and attended St. Mary's Grade School and High School.
She was a teacher for several years prior to entering Annunciation Monastery in 1946. She made monastic profession July 1, 1948.
Sister Neola enjoyed children, especially encouraging them to read and expand their minds. She served 20 years as librarian at St. Mary's Grade School and three years at Cathedral Grade School, both in Bismarck. She continued to share her love of reading as librarian at the monastery for nine years and as a volunteer for five years in the library of the Diocese of Bismarck. She also taught elementary grades in Catholic schools in Bismarck and Mandan and religious education throughout the Bismarck Diocese during the summers.
A pleasant and cheerful woman, Sister Neola had a ready smile and a heart full of gratitude for God and all the people in her life - her students, monastic community, family, friends and caregivers. She loved surprising people with little gifts, tokens of her affection. Her joyful spirit made people enjoy being in her presence.
Sister Neola delighted in recently celebrating her 90th birthday at the monastery surrounded by cherished family, friends and her Benedictine sisters. "God has been extremely good to me and I am so grateful," she said.
Sister Neola is survived by her sister, Cletes Hicks, Issaquah, Wash., nieces and nephews and the Sisters of Annunciation Monastery. Memorials may be made to Annunciation Monastery.
To share memories of Sister Neola, visit www.parkwayfuneral.com and sign the online guest book (Parkway Funeral Service, Bismarck).