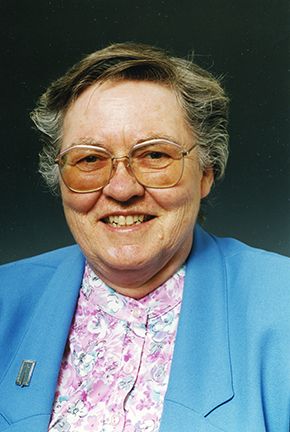 Sister Michael Kaliher, 84, a member of the Benedictine Sisters of Annunciation Monastery, Bismarck, entered eternal life Thursday, November 14, 2013, at St. Alexius Medical Center.
Mass of Christian Burial will be held at 4:00 p.m. Tuesday, November 19, in the Chapel of Annunciation Monastery. Visitation starts at 2:00 p.m. Sunday at the monastery and from 9 a.m. Monday until the time of the funeral. A wake service is scheduled for 7 p.m. Monday at the monastery.
Born on May 18, 1929 in Detroit, Mich., to George and Frances (Looney), she was given the name Marilyn Frances. She had one sister, Margaret Mary. The family eventually moved to California. In high school, Marilyn's outstanding art talent earned her a two-year scholarship to Kann Institute of Art, West Hollywood, Calif., where she learned that her heart was set on the fine arts. Her heart also led her to Annunciation Monastery where she made her monastic profession in 1952.
Sister Michael received her Bachelor of Fine Arts from St. Catherine's in St. Paul, a Master of Fine Arts from Notre Dame, and did post graduate work at Brigham Young, California State and Benedictine College, Atchison, Kan. With degrees in art and education, she taught in grade schools at St. Joseph's, Mandan, and Cathedral, Bismarck. She also taught art at St. Mary's Central High School, Annunciation Priory High School and Mary College.
Sister Michael's passion for God and art carried into her compassionate interactions with her students. She was the kind of teacher who paid attention to students who seemed troubled and found ways to support and uplift them. Her daily prayer before she walked into the classroom was, "God, let me help someone today." Sister Michael took a genuine interest in everyone she met and enjoyed interesting conversation.
Her illustrations are found in several books, including "Father DeSmet in Dakota," by Fr. Louis Pfaller, OSB, of Assumption Abbey, Richardton, N.D., and "The First Sioux Nun," by Sister Ione Hilger, OSB, and "Medieval Women Monastics," edited by Sister Miriam Schmitt, OSB, both of Annunciation Monastery.
Sister Michael used her skill in making pottery to teach the women of Chunkankadai, India better techniques for their craft. Upon her return, she taught English to Laotian and Indian immigrants. She retired to the monastery when her eyesight failed, but never tired of visiting with people about art. She loved sharing about the talking books she listened to. Sister Michael had a ready laugh and cheered all with her Irish humor and inspired all with her poetry. Many of her paintings grace the monastery walls and lift the spirits of sisters and guests.
A deeply spiritual woman, Sister Michael spent cherished time in contemplation. Despite her failing vision, she would say, "I'm losing my eyesight, but I can still pray." Her deepest prayer was to just close her eyes and be in God's presence.
Sister Michael was preceded in death by her parents and sister. She is survived by her brother-in-law, Dick Maisano, LaVerne, Calif., several nieces, nephews and their children, and by the Sisters of Annunciation Monastery.
Memorials may be made to Annunciation Monastery.
To share memories of Sister Michael, visit www.parkwayfuneral.com and sign the online guest book. (Parkway Funeral Service, Bismarck).