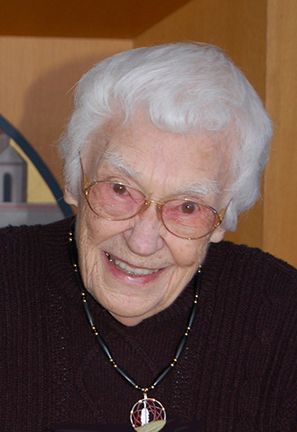 Sister Kathryn Zimmer, OSB - Obituary
Sister Kathryn Zimmer, 97, a member of the Benedictine Sisters of Annunciation Monastery, Bismarck, entered into eternal life Sept. 25, 2014, in a Bismarck care center.
An innovative and dedicated leader in nursing education at the University of Mary, United Tribes Technical College and on state and national levels, Sister Kathryn was undaunted in her commitment to create excellent nursing programs. She was also prioress of Annunciation Monastery from 1966-1976 and led the monastic community through the renewal years after Vatican II.  
 Sister Kathryn (baptismal name Marguerite) was born April 16, 1917, to Nicholas and Kathryn (Pletschett) Zimmer in Brooten, Minn. She was the oldest of five children.
Marquerite earned a degree in social work and worked for 10 years in this profession. In her early 30s, she began searching for more meaning in life. She wanted to grow in prayer, to know more about the Church and its mission, and to be part of something larger than herself.
She entered Annunciation Monastery, was given the name Sister Kathryn, and made monastic profession on July 11, 1953.
As a Benedictine sister, she earned a nursing diploma, a master's degree in education and social work and a doctorate in higher education and nursing education. She served as chairperson of the Division of Nursing at the University of Mary from 1962-65, and after a ten year tenure as prioress of the monastic community, she again became chair of the university's nursing program for 12 years.  With steadfastness, she directed the nursing division through years of curriculum and program development including the first master's degree at the university.
She retired from that position in 1990 and soon was asked to become director of the nursing program at United Tribes Technical College. A significant accomplishment during her nine-year directorship was the nursing program's accreditation from the National League for Nursing.
 Active in the North Dakota Nurses Association for 36 years, Sister Kathryn was inducted into its Hall of Fame in 1990. She also served as a site visitor and consultant for the National League for Nursing.
Sister Kathryn was instrumental in the lives of many.  She encouraged and supported people in their efforts to further their education.  Her social, friendly nature and generous ways brought joy to many. She was open to try new ways of responding to needs of people in the monastery, the Church and nursing education. For Sister Kathryn there were always more ideas to think, more possibilities to consider and more people to know and love.
Sister Kathryn is survived one brother, Father Nicholas, Braham, Minn.; three sisters, Mary Maudal, Alexandria, Minn.; Sister Alard Zimmer, Dorothy Zimmer, both of St. Cloud, Minn. and the Sisters of Annunciation Monastery.  
Memorials may be made to Annunciation Monastery.