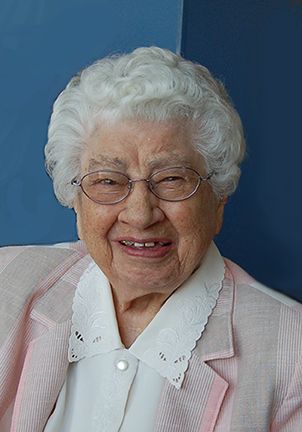 Sister Francis Schweitzer, 94, a founding member of the Benedictine Sisters of Annunciation Monastery, Bismarck, entered eternal life Monday, March 23, 2015, at the monastery. Mass of Christian burial is scheduled for 4:30 p.m. Thursday, March 26 in the Chapel of Annunciation Monastery. Visitation began Tuesday and continues until the time of the funeral at the monastery. A vigil will be held at 7:30 p.m. Wednesday in the monastery chapel.
Sister Francis (baptismal name Gertrude) was born June 24, 1920, on a farm south of Dodge, N.D. She was the 6th of 11 children of Sebastian and Johanna (Vogel) Schweitzer. She grew up in a loving family where religion was central. Four of the Schweitzer daughters became Benedictine sisters.
Sister Francis entered St. Benedict's Monastery, St. Joseph, Minn. and made monastic profession July 11, 1942.
In 1944 she was one of 144 Benedictines from St Benedict's who volunteered to establish a new community in Bismarck, now known as Annunciation Monastery.
Sister Francis cherished God, family and her Benedictine community. An excellent cook and baker, she delighted in bringing joy to others through her delicious meals and baked goods. She also created beautifully-decorated cakes which she freely gave to others. She was a cook at St. Joseph's Convent in Mandan for 14 years and served for 34 years as manager of the dietary department at Garrison Memorial Hospital.
While at Garrison, Sister Francis enjoyed fishing, gardening and watching wildlife in the wide open country. After she moved to the monastery, she loved to sit outdoors and observe the birds and the seasons.
Devoted to the Benedictine monastic life for 72 years, she was a faithful presence at community prayer and had a special devotion to the Blessed Mother. She prayed the rosary daily.
A warm, friendly and compassionate person who took a great interest in others, Sister Francis loved the people of Garrison, her family and her Benedictine sisters. With a grateful heart, she always appreciated the care and love she received from others.
Once when asked, she gave this piece of wisdom, "Be yourself and be happy. Be thankful every day for what God has given you."
Sister Francis is survived by a sister, Frances Fleckenstein, a brother, Adam, Bismarck; nieces and nephews and the Sisters of Annunciation Monastery.
Memorials may be made to Annunciation Monastery.
To share memories of Sister Francis, visit www.eastgatefuneral.com and sign the online guest book. (Eastgate Funeral Service, Bismarck)