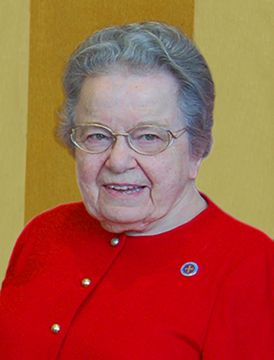 In Loving Memory of Sister Miriam Schmitt, OSB
Sister Miriam Schmitt, 92, a member of Annunciation Monastery, Bismarck, entered eternal life Friday, May 12, 2017, at a local hospital.
Mass of Christian burial is 4 p.m. Tuesday, May 16 in the Chapel of Annunciation Monastery. Visitation begins at 1 p.m. Monday, May 15 at the monastery and continues until the time of the funeral. A vigil service is Monday, May 15 at 7 p.m. in the monastery chapel.
Sister Miriam (baptismal name Erminia)) was born March 24, 1925, in St. Martin, Minn. to Peter and Mary (Klehr) Schmitt. She was the fifth of 12 children.
In 1946, she entered Annunciation Monastery and made monastic profession July 1, 1948.
Sister Miriam had a brilliant mind and was an exemplary scholar. She did extensive research on medieval women monastics, mystics, spirituality, monasticism and liturgy. She wrote articles and chapters in Benedictine and Cistercian journals and books on medieval women mystics. She had a special place in her heart for Saints Hildegard of Bingen and Gertrude the Great.
She co-edited the book, "Medieval Women Monastics: Wisdom's Wellsprings," published by Liturgical Press in 1996.
For 20 years she shared her research throughout the United States by giving lectures, workshops, spiritual direction, and retreats as well as serving as adjunct faculty at the United Methodist and Presbyterian Spiritual Formation Academies. She taught liturgy and monasticism during summer sessions at St. John's School of Theology, Collegeville, Minn.
Sister Miriam earned master's degrees in liturgical studies from St. John's School of Theology and in administration from Notre Dame University.
Earlier in her life, she served as an elementary, secondary and college educator, and an accountant for the monastery. She also served as director of financial affairs at the University of Mary where she conducted all business and financial arrangements necessary to begin construction of the university's first buildings. "Sister Miriam, through her professional ability and dedication, has been a vital force in the development of Mary College," said then President Dr. Harold Miller.
Prioress of Annunciation Monastery from 1980-84, Sister Miriam was a Benedictine sister for 68 years. She had a deep spirituality, a great love of Jesus and treasured the Liturgy of the Hours and the Eucharist. She will be missed for her gentle presence, her sense of humor and a precious smile that brightened the hearts of many.
Sister Miriam is survived by three sisters, Sister Claire, Annunciation Monastery, Eleanor (Don) Otremba, Nisswa, Minn., Louise Heurung, Eagan, Minn.; two brothers, Rev. Silverius, Sauk Rapids, Minn., Joseph (Delores), St. Martin, Minn.; two sisters-in law, Anna Schmitt, Richmond Minn., Katie Schmitt, St. Martin, Minn., and the Sisters of Annunciation Monastery.
Memorials may be made to Annunciation Monastery.
To share memories of Sister Miriam, visit www.eastgatefuneral.com and sign the online guest book.