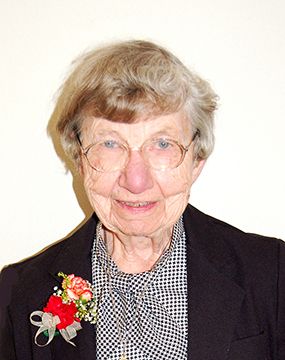 Sister Helen Kilzer, 99, a founder of Annunciation Monastery, Bismarck, entered eternal life Saturday, June 3, 2017, at CHI St. Alexius Health.
Mass of Christian burial is scheduled for 4 p.m. Tuesday, June 6, in the Chapel of Annunciation Monastery. Visitation begins at 1 p.m. Monday, June 5 at the monastery and continues until the time of the funeral. A vigil service will be held Monday, June 5, at 7 p.m. in the monastery chapel.
Helen was born January 11, 1918, in Richardton, N.D., the seventh of 12 children of Joseph and Beata (Schnell) Kilzer.
In 1938 she entered St. Benedict's Convent, St. Joseph, Minn. and as a novice was given the name of Sister Marmion. She made monastic profession July 11, 1940.
In 1944 she volunteered to help establish Annunciation Monastery. After some years she returned to her baptismal name of Helen.
A wonderful educator, Sister Helen taught junior high students in Bismarck, Dickinson and Mandan from 1944-1960. "How I loved them," she said. She served as principal of St. Joseph's School from 1955-60.
When she switched to teaching languages, it changed her life and the lives of her students. She taught French at St. Mary's Central High for eight years and French, German and Spanish for 23 years at the University of Mary. She also taught German for nine years at St. Mary's Grade School.
Sister Helen believed that the best way to learn a language was to speak it. No English was allowed in her classrooms. She took groups of students to Europe, Mexico and Quebec to immerse them in the language and culture of the people. "I wanted my students to learn to respect and appreciate the difference in others," she said.
"Sister Helen did something very few people who stand in front of classrooms know how to do," said a student. "She made us believe that what we were doing was important. We sensed in her a fellow student, who had a deep passion for learning. She brought us along on the strength of that commitment and drew us into sharing it. There is no better reason to call someone teacher."
Active in the Foreign Language Association of North Dakota, (FLAND), Sister Helen served as its first president in 1968. In 2010 she was honored with FLAND's Sister Helen Kilzer Lifetime Service Award in appreciation for her dedication to teaching world languages and cultures.
Sister Helen had an enthusiastic love of life. With a heart for God, monastic life, languages and people, she enriched the lives of many.
Sister Helen is survived by a brother, Walter, Dickinson; nieces and nephews, and the Sisters of Annunciation Monastery.
Memorials may be made to Annunciation Monastery.
To share memories of Sister Helen, visit www.eastgatefuneral.com and sign the online guest book.