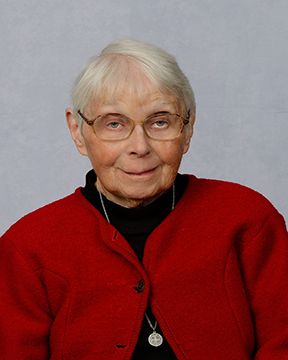 Sister Jeanette Hinds, 93, a member of Annunciation Monastery, Bismarck, passed into eternal life Tuesday, Sept. 5, 2017, at CHI St. Alexius Health.
Mass of Christian burial is scheduled for Monday, Sept. 11 at 4 p.m. in the Chapel of Annunciation Monastery. Visitation begins at 7 p.m. Saturday, Sept. 9 at the monastery and continues until the time of the funeral. A vigil service will be held at 7 p.m. Sunday, Sept. 10 in the monastery chapel.
Carolyn Ann (Sister Jeanette) was born Sept. 30, 1923, Breckenridge, Minn., the third of three children of John and Victoria (Gumper) Hinds. She grew up in Wahpeton, ND.
In 1946 she entered Annunciation Monastery and as a novice received the name Sister Jeanette. She made monastic profession on July 1, 1948.
An upbeat, enthusiastic person who loved music and people, Sister Jeanette came from a happy home where creativity, faith and music were encouraged. She earned a bachelor's degree in music and a master's degree in music education.
An elementary music teacher, she also gave private lessons on the piano and violin for 40 years. She was a church organist for over 50 years. Sister Jeanette taught music in Catholic schools and parishes in Bismarck, Mandan and Dickinson. She will be remembered most for her presence and service at St. Mary's School and Parish in Bismarck. In addition to teaching music, she was church organist. From 1987-97, she helped plan funeral liturgies. She was a St. Mary's parish visitor at the two hospitals in Bismarck and Eucharistic minister at Sanford Health. She liked meeting and visiting with people, and consoling them in their illness. Sister Jeanette also enjoyed participating in parish events, faith groups and liturgies.
In 1980 she began playing the violin in the Bismarck-Mandan Symphony Orchestra. This was one of the great joys of her life. For about 30 years she performed with the orchestra and was delighted to work with many musicians on wonderful compositions. Many of the performers became her friends.
Sister Jeanette was thrilled to be a sister. "When I was growing up, sisters' lives fascinated me. I always wanted to be like them." she said. "I remember being called 'sister' for the first time by my students. I could hardly believe it – to finally be a sister." She appreciated living the monastic life for 69 years and relished the beauty of the sisters' common prayer.
She will be missed for her gentle, happy outlook on life, her love of visiting, and her deep faith.
Sister Jeanette is survived by a sister-in-law, Hilaria Hinds, Portland, Ore., cousins and the Sisters of Annunciation Monastery.
Memorials may be made to Annunciation Monastery.
To share memories of Sister Jeanette, visit www.eastgatefuneral.com and sign the online guest book.