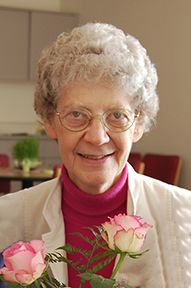 Sister Donna Johnson, 80, a member of Annunciation Monastery, Bismarck, passed into eternal life Thursday, April 19, 2018 at a local care center.
Mass of Christian burial is at 4 p.m. Tuesday, April 24, 2018 in the Chapel of Annunciation Monastery. A wake service is at 7 p.m. Monday, April 23 in the monastery chapel. Visitation begins at 9 a.m. Monday, April 23 at the monastery and continues until the time of the funeral.
Donna Gail was born Jan. 6, 1938, in Washburn N.D. She was the second of 8 children of L J (Chuck) and Alma (Krebsbach) Johnson.
After becoming an LPN, she worked in the children's department at CHI St. Alexius Health before joining Annunciation Monastery in 1959. As a novice, she received the name Sister Mary David and was known by that name for many years before she returned to her baptismal name of Donna. She made her monastic profession, July 11, 1961.
Sister Donna had a heart for caring for the sick. An excellent nurse, she served more than 44 years in some capacity of nursing. She earned a bachelor's degree in nursing from the University of Mary and a master's degree in medical surgical nursing from Texas Women's University.
She cared for the sick at CHI St. Alexius Health, CHI St. Alexius Health – Garrison, and the monastery health center. She also taught nursing for 25 years at the University of Mary. She anticipated the needs of the sick and attended to emergency situations in a calm, compassionate manner. With great patience she often waited hours with a sick sister in the ER, clinic or hospital.
But nursing wasn't her only passion. As a Benedictine sister for 57 years and sub-prioress of the community for three of those years, she valued prayer and community life. She wrote, "I talk a lot to God and pray daily that I will be kind, gentle and honest. I try to live and act so that in all things God may be glorified." These were the hallmarks of her character.
Sister Donna, a cheerleader at heart, loved every kind of sport. A faithful presence at University of Mary games, she cheered on many generations of student athletes.
Her family was special to her. She loved her brother and sisters and they loved her. Family times were treasured by Sister Donna.
She is survived by four sisters, Wanda (Dewey) Oster, Bismarck; Maureen (Ben) Kautzman, Hettinger; Cheryl Wingerter, Ridgefield, Wash.; Dianne Wolf, Beulah, one brother, Kirby (Linda), Mandan, and the Sisters of Annunciation Monastery. She was preceded in death by an older sister, Kay and a little brother, Lowell.
Memorials may be made to Annunciation Monastery.
To share memories of Sister Donna, visit www.eastgatefuneral.com and sign the online guest book.