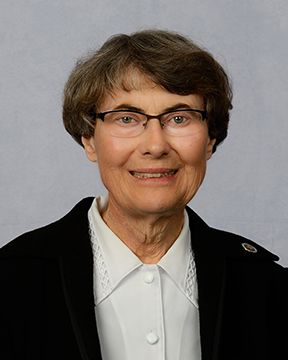 Sister Thomas Welder, 80, a member of the Benedictine Sisters of Annunciation Monastery, Bismarck, and president of the University of Mary for 31 years, passed into eternal life June 22, 2020, at the monastery, following a recent diagnosis of kidney cancer.
Mass of Christian burial is scheduled for Monday, June 29, at 10:00 a.m. in Our Lady of the Annunciation Chapel (OLA) at the Benedictine Center for Servant Leadership at the University of Mary. Visitation will be held at OLA from 9 a.m. to 10 a.m. before the funeral. Due to Covid-19 restrictions, the funeral is limited to Welder's family and close friends. The funeral can be viewed online through livestream at www.umary.edu/SisterThomas. A public vigil service with Evening Prayer will be held Sunday, June 28, at 7 p.m. in Our Lady of the Annunciation Chapel. This will also be livestreamed. Visitation will be held before the public vigil service from 1 p.m. to 7 p.m.
Sister Thomas (baptismal name Diane Marie) was born in Linton, N.D. on April 27,1940, to Mary Ann (Kuhn) and Sebastian Welder. She was the oldest of three children. When she was two, the family moved to Bismarck.
A graduate of St. Mary's High School, she joined Annunciation Monastery after a year of college in Minnesota. Attracted by the community and prayer life of the sisters, she felt God's call to become one of them. As a novice, she was given the name of Sister Thomas. She made her monastic profession on July 11, 1961. Sister Thomas cherished Benedictine monastic life which she lived faithfully for 59 years.
She graduated from the College of St. Scholastica, Duluth with a bachelor's degree in music and earned a master's degree in music from Northwestern University, Evanston, Ill.
A dedicated servant leader, she gave her life to the University of Mary for 57 years.  She led from her heart and touched the lives of many. She was president from 1978 to 2009.  Under her remarkable leadership, the school attained university status in 1986; tripled in size from 925 students to 3,000; added the university's first doctorate, grew on-site and online adult learning programs to 16 locations across the state, region and nation, and moved to NCAA Division II athletics.
Sister Thomas was present to students, faculty and staff.  She attended student recitals and concerts, cheered at athletic events and participated in many university gatherings. She called students by name and her genuine caring attitude left a deep impression on them. She enjoyed getting to know friends of the university whose financial assistance made growth possible. After her retirement as president, she was named President Emerita and served in the university's Mission Advancement Office. 
One of the most widely known and highly respected women in North Dakota, Sister Thomas loved visiting with people of all ages and walks of life. People gave her energy. She would focus her entire attention toward listening to the person right in front of her. Her enthusiastic spirit, sense of humor, and gentle nature made others comfortable in her presence. It was a joy to be with Sister Thomas.   
Sister Thomas modeled many Benedictine values, such as hospitality, respect, prayer and service, with ease and grace. Benedictine values were dear to her heart.  She committed herself to instilling these values throughout the monastery's sponsored institutions, the communities of CHI St. Alexius Health and the University of Mary.
She served on many state and national boards including CHI St. Alexius Health and MDU Resources Group, Inc. She received numerous honors during her lifetime including North Dakota's highest honor, the Theodore Roosevelt Rough Rider Award.
Music was one of her passions. She directed the Sisters' Choir for 46 years and gave credit to the choir for the beautiful liturgical music.
Sister Thomas was grateful for many blessings in her life. She was particularly thankful to two kidney donors who gave her the gift of life through two kidney transplants. She often prayed for and stayed connected to these special people.
A beloved woman of faith, wisdom, and humility, Sister Thomas gave all of herself to so many for so long. She will be deeply missed.
She is survived by a sister, Judy (Steve) Jankus, Navarre, Fla.; a sister-in law, Marcia Welder, Apple Valley, Minn.; an aunt, Sister Alene Kuhn, SSND, Mankato, Minn.; 6 nieces and nephews, 11 grand nieces and nephews, one great grandniece, and the Sisters of Annunciation Monastery.  
She was preceded in death by her parents and her brother, George.
Memorials may be made to Annunciation Monastery or the University of Mary. 
To share memories of Sister Thomas, visit www.eastgatefuneral.com and sign the online guest book.