Sr. JoAnn Krebsbach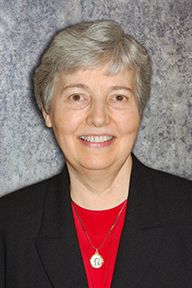 "It is here I find support and love in my journey as we pray, play, and work together."
When I graduated from high school, I felt a call to do something special with my life, and that "special thing" was to join Annunciation Monastery. As the years pass, I am continually grateful to God for calling me to a Benedictine community.
Even though I knew very little about Sisters before I joined, I found there were so many things about the life that I liked: community living, prayer together, an emphasis on liturgy, discerning and answering the needs of the Church. During my years here, I have often had a deep inner sense that "it is good to be here."
I think for me the strongest reason for this feeling is community living. I came from a large family and for me it is important to "belong." This sense of belonging is very much a part of my experience here at Annunciation Monastery. In my vow of stability, I promised to live with these Sisters in this monastery, and I must admit I have grown very attached to both. It is here I find support and love in my journey as we pray, play and work together.
As in any family, we have our ups and downs, but there is always that strong bond between us and the underlying knowledge that we are traveling together and can always count on each other.
*Currently, Sister JoAnn serves in vocation ministry and assists with the Benedictine Volunteers program. Sister JoAnn's ministry prior to this was as subprioress of Annunciation Monastery.