Sr. Kathleen Atkinson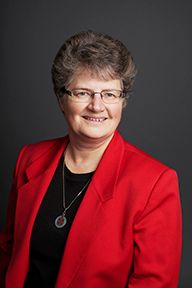 "I returned to college and began to be open to some feelings I had known earlier; an interest and attraction to the life of the Sisters."
My family has always been involved in volunteer service of one type or another; it was one of those things that you did as a member of the Atkinson family. We had a sense of being "blessed" or "just plain lucky" and therefore, it was important to reach out to others who were less fortunate.
Growing up with this type of involvement, I had a desire to do or be something out of the ordinary; to help make this world different. I loved teaching and wanted to be a teacher whose classroom made an impact on my students' life. My family had been involved in politics and government service for generations, so it also seemed natural for me to do that too. I was active in College Student Government, College Republicans, and set a goal that by the age of 25, I would run for the legislature. The summer before my senior year in college I went to Washington, DC as a senate intern and it was there that I felt something was missing with this type of involvement. The missing difference for me was the spiritual dimension.
I returned to college and began to be open to some feelings I had known earlier; an interest and attraction to the life of the Sisters. As I watched from a "safe distance" I found women committed to many of the same ideals as I; women committed to a community that shared a dream; a community that prayed together as the framework for their involvement in a variety of works; a community flexible enough to respond to the needs of modern times, yet rooted in a deep and long history. I realized that I needed to give religious life a try to find out if it was right for me.
To enter Annunciation Monastery was not an easy decision. I feared rejection. I feared I would become really limited in the things I could do, the clothes I could wear, and the way I could act. I also feared making a commitment toward an unknown future with a group who was yet quite unknown, but I wanted to be open to all options and living as a Benedictine Sister was an option I wanted to explore.
I lived within the community, exploring the option for nine years before feeling ready to commit myself for life. I made life vows in 1985. I believe I have found my home and challenge in life. I look to the future with a deep sense of excitement; knowing that there will be changes in our community life and ministry; changes in our world and changes in me. I know that it is within this community and lifestyle that I wish to be a shaper of the future.
*Sister Kathleen Atkinson is the author of two books, "God is Always There: Psalms for Every Moment," and "Letting Go & Letting God." She is the founder of "Ministry on the Margins," an organization to assist those going through transitional times in life, re-entry into society after serving in prison or homelessness.