Sr. Lawrence Fischer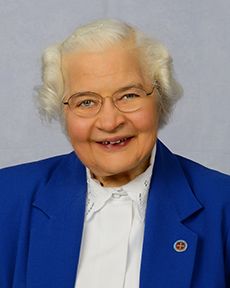 Sister Lawrence Fischer
Sister Lawrence Fischer (birth name, Rita Ann), was born December 9, 1937, to Leonard and Clara (Domagala) Fischer on a farm near Rhame, ND. She was the first daughter following older brother, Donald, and preceding seven brothers and five sisters.
Born into a faith-filled Catholic family, Rita Ann began a lifetime of loving, serving and caring for others at a very young age. Her brother, Donald, was a sickly child and she quickly assumed caretaking responsibility for him and her younger brothers and sisters.
"Religion was always a part of our family life on the farm," Sister Lawrence recalls. They always took time for church, daily prayers and the family rosary and suppertime was the focal point when the family and friends came together.
Sister Lawrence first became acquainted with the sisters who taught vacation school. She
graduated from Rhame Public High School in 1955. With a gift for business, Sister Lawrence was encouraged by a priest to further her education at St. Benedict's College in St. Joseph, MN. She followed his advice and took all of the math and business courses they offered. During her time at St. Benedict's she became acquainted with more of the Sisters and attended Mass and Vespers regularly.
One of the turning points in Sister Lawrence's life was attending a novice reception for a friend of hers from Rhame who was joining the Benedictine Sisters of Annunciaton Priory (now Annunciation Monastery). At the reception, her friend asked, "Will you be in the postulant class next year?" Without a moment's hesitation, Sister Lawrence said, "Well, yes!" Saying "Yes," became a theme in her life as she served where she was needed.
In 1958, Sister Lawrence became a postulant with the Benedictine Sisters in Bismarck. She became a novice on June 16, 1959. That same year the Sisters moved to their new location seven miles south of Bismarck. This was the same year Mary College (now the University of Mary) became a four-year college.
On July 11, 1963, Sister Lawrence made her perpetual monastic profession as a Benedictine Sister of Annunciation Monastery.
Sister Lawrence thought she might want to be a cook or work in accounting but prioress, Mother Edane, had other plans for her. She informed her that teachers were needed and that was to be her new ministry. Sister Lawrence attended Mary College and received her BA in theology/philosophy and a double minor in business education and math. During this time she did her practice teaching and eventually taught math at Cathedral School in Bismarck. She later taught at St. Mary's Central and Priory High School.
Sister Lawrence recalls those days as being very challenging. The new Priory was atop a hill and the wind gusted more days than not. "We'd mop the dirt from the floors every day and did dishes by hand, having to heat the water atop a stove before washing them."
Sister Lawrence was given the task of preparing for the annual audit and bookkeeping for Mary College. She knew this was the ministry where she belonged. Her gifts flourished as she started the University of Mary's financial aid office, was business manager and ran the bookstore.
In 1968, Sister Lawrence was asked to assist with the business of closing of St. Benedict's Home in Dickinson, ND, which was run by the Sisters. That same year, she returned to Bismarck to help with the closing of Priory High School. She served for a year at Garrison Hospital, Garrison, ND, to help in the business office. Returning to Bismarck in 1971, she was bookkeeper and assisted with human resources and maintenance. In 1977, Sister Lawrence returned to school at Creighton University, Omaha, NE, to get her MBA. After receiving her MBA, she returned home and was appointed treasurer for the monastic community. Sister Lawrence served on the St. Alexius Board of Directors for many years and as treasurer at Annunciation Monastery.
As she considers the blessings of the past 50 years as a Benedictine Sister, Sister Lawrence says, "We live our lives day by day and we continue following our call. I still feel God leading me where I am needed."