Sr. Madelyn Louttit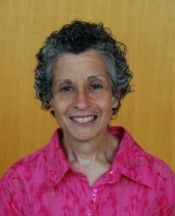 To my friends and family in New York City, where I was born and raised, it seemed very odd. When I told them I was coming for a visit, they said, "North Dakota? Why would ANYONE want to live in North Dakota? It's cold!"
Well, they were wrong…and not only about the weather. What's warmest to me about being at Annunciation Monastery is the community and the life of prayer and ministry I've found here. I was initially attracted by the balanced approach taken by Sister Kathleen who was vocation director at the time. I initially contacted the community via the internet, having seen the web site and was attracted by the beauty of the surroundings and of the monastery itself. She invited me to a "come and see" experience that combined a trip to Medora, an opportunity to experience small-town life in Garrison, and a look-see at the life lived by the sisters here. Being from New York, I wondered if I'd find North Dakota too unfamiliar compared to New York. Not at all! The pace is slower, and I always get teased because I talk too fast – but the slower paced life teaches mindfulness and allows time for the sisters to listen to and respect one another.

Their prayer life and ministries also attracted me. Having just completed a master's degree in theology, I became interested in the sister's teaching ministry at the University of Mary. But there are many other opportunities here as well. Being part of a religious community means sharing life with a group of women who want to put God first in their lives. Not everyone is the same of course, but that common interest, that way of all looking in the same direction is there. Best of all, it us understood – something I hadn't been able to find anywhere else.
Looking forward to the future as a member of this community is exciting, especially in these times of uncertainty in the Church and in the world. The future is wide open – but the common bond of Benedictine values and spirituality is so important. Benedictine life is rooted in the past, has continued into the future, and has bright promise for the future. It is so gratifying to share a way of life rooted in God and the ancient Benedictine tradition because throughout their history, they have lived this life with dedication, dignity and grace. I have every reason to believe they will continue to do so in the future and I am excited to be part of it!