Sr. Marena Hoogland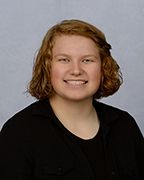 "I was raised on a dairy farm in Catawba, Wisconsin. My parents are Jeff and Lori Hoogland, and I am the middle child of seven siblings - three brothers and three sisters. 
'I learned about the Sisters of Annunciation Monastery while searching faith-based service organizations through the Catholic Volunteer Network. The Benedictine Volunteers program at the monastery has a heavy focus on discernment. This exposed me to the idea of vocation as a call to love and not have to decide between a "right or wrong" choice, but rather to explore how I can best love and serve God. 
'I came to Annunciation Monastery as a volunteer in March 2017 and went through the stages of initial formation, and made my first monastic profession in October 2019. For me, there is a quiet nudge that tells me to continue on this path, even when I am confused and uncertain."
*Sister Marena is currently attending classes as a student at the University of Mary. She enjoys playing piano and flute, painting, reading, embroidery, and walking.