Sr. Melissa Cote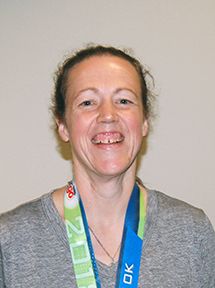 "I love this life and wouldn't trade it for anything."
The idea of becoming a Sister never entered my mind until I met the Benedictine Sisters of Annunciation Monastery while a student at the University of Mary.
At that time all the Sisters ate in the same cafeteria as the students and I saw how they cared for each other. Their love and support of each other impressed me. They were always so kind and exuded a genuine hospitality toward each other and those around them. It opened my eyes and heart to God's calling in my own life. At first I tried to push all thoughts of becoming a Sister away. I spent a lot of time walking and thinking but the thoughts didn't go away.
Finally I told my mother and she encouraged me to meet with a Sister and learn more about the lifestyle. That did it. I became an affiliate of Annunciation Monastery in 1998 and in 2000 came to live at the monastery. Living with the Sisters felt very uplifting and supportive; it felt like home. I am the fifth of eight children and was used to being surrounded by a close family which I also found in the community of Sisters.
My parents are happy about my decision to become a Sister and my friends have also been surprisingly supportive. When they come to visit me, they visit the other Sisters too; they love the Sisters.
There is a spirit here that just feels right. It's affirming. I appreciate the presence of the Sisters, their faithfulness to prayer, the beauty of the monastery and the natural beauty of the surroundings. Whenever I leave, I'm always anxious to come back home to Annunciation Monastery.
In the summer of 2002, I made my monastic profession. I continue to live at the monastery and work at CHI St. Alexius Health as a pharmacy technician. Since becoming a Sister, I have grown in confidence, in self-awareness and in faith in God.
I love this life and wouldn't trade it for anything.
In my free time, I enjoy time with my sisters in my monastic community and running.