Sr. Stephanie Dolyniuk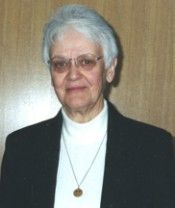 Sister Stephanie, the youngest of 12 children, grew up in a small rural farming community in Belfield, ND, where a number of immigrant families from the Ukraine had settled and built up their community. Her religious background includes upbringing in the Eastern Byzantine Rite of the Catholic Church. Sister Stephanie recalls fond
memories of the small rural Eastern Ukraine Rite Church which she and her family attended, where her father was the head cantor. "The church was the center of the entire community's spiritual and social life," she says. "It was there that the community gathered to pray, play, and to share their faith journey."
Prayer and a deep relationship with God have always been part of Sister Stephanie's life. Looking back, she regards her mother's influence as most significant in shaping her life spiritually, intellectually, and emotionally. Although her mother died when she was quite young, Sister Stephanie recalls the deep connection she felt with her mother's faith and the awakening desire within herself to do something special with her life. "I was only 4 years old when I felt the call to religious life," she recollects.
Sister Stephanie had planned to enter a religious community in Portland, OR immediately after high school graduation, but her father felt she was too young. She worked for a few years at an auto parts company, then at an oil company. Still desiring to enter religious life, after making some fortuitous connections and obtaining the necessary permission to obtain the Roman Rite of the Catholic Church, she entered Annunciation Priory (now Annunciation Monastery) in Bismarck, ND at the age of 23.
After the novitiate, Sister Stephanie began her first ministry assignment at St. Alexius Hospital in the area of business administration, where she remained for 15 years. While there, she attended school part-time, eventually obtaining a bachelor's degree in social work from Mary College (and, still later, a master's degree in pastoral ministry from Seattle University, WA). Soon after graduation from Mary College, an opportunity to serve in pastoral ministry arose at Corpus Christi Church in Bismarck.
Beginning with home and hospital visitations, Sister Stephanie's involvement at Corpus Christi soon broadened to include planning of liturgies, formation of various choirs and musical groups, counseling, planning and facilitating retreats, funerals, prayer groups, ecumenical groups, and youth groups. As her involvement in this ministry expanded and evolved, it became increasingly apparent that Sister Stephanie had a special gift in her ability to build community and call forth the gifts of others. "By enlivening our liturgies and calling people to a fuller involvement," she explains, "the parish became vibrant, and many types of ministries became fully realized." It was not at all uncommon to see Sister Stephanie with guitar in hand, leading the singing at Mass or at a time of prayer. "Music has helped my ministry," she says. "People can really relate to music."
Friendly, creative, energetic and outgoing, Sister Stephanie's enjoyment in working with both individuals and groups has extended to many other areas of ministry. She was the first Campus Minister of Mary College, has been involved in prison ministry and service to the poor of the city of Las Vegas, NV along with a small group of Franciscan sisters. She has also been the prime motivator behind the establishment of a small mission church in the desert of Sandy Valley, NV. She's done pastoral work in parishes in Dickinson, ND, worked with Catholic Family Services in social ministry with Farm and Rural Crisis in southwestern ND, has tutored grade school children, and done rural retreat work. Most recently, Sister Stephanie has taught the Pilgrimage to God course at the University of Mary, and currently is involved in the Professional Studies program which serves adult learners. She gladly travels the long distance from Bismarck to Newtown and Belcourt to serve adult learners there, and recounts with excitement the hunger and love for spirituality and learning she observes in these students.
Reflecting on her life of faith and service, Sister Stephanie says, "Even before entering religious life, I had a deep prayer life. I joined this religious community to seek the fullness of God. I knew there had to be so much more, and I wanted that." She adds:
"Serving others draws us closer to God. We are called out of ourselves. We forget ourselves for the needs of others. We become more aware of God's presence. We develop gifts we were unaware of. All of us are called to make this a better world through our ministry of service. But what is most important is our relationship with God and with the members of the community."
Inspired by the Beatitudes in the Gospel of Matthew, Sister Stephanie sees her untiring desire to good for others as a way of reinforcing God's image in each person. She explains, "When we respond to others in need by doing good toward them, God's blessing comes upon us. This is the kind of spirituality that can be fulfilled in each of us."