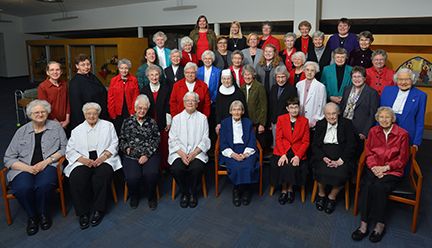 Community Prayer ~ Sister Nancy Gunderson, OSB
Community prayer is the backbone of our life.
We gather 3x/day Morning, Noon and Evening to pray Liturgy of the Hours.  Part of those Hours in our Community Prayer consist of 3 psalms in the morning and 3 at noon and 4 psalms in the evening.  The psalms connect our prayer to the prayer of our ancestors in faith who prayed those psalms even before the birth of Jesus.  The psalms were also the prayer book of Jesus himself.  St. Benedict devotes 13 chapters in his Rule on how to pray the psalms.
In his Rule, St. Benedict also says, "How much more important then, to lay our petitions before the Lord God of all things with the utmost humility and sincere devotion."  And so we do.
We lift up the needs of
-          The world
-          Church
-          Local
-          Prayer Board
-          Dead and dying
-          Priest/religious of our diocese whose names appear on the SERRA calendar that day
-          Those discerning life's call
-          U-Mary students, faculty & staff
-          CHI/St. Alexius
-          We pray for those who cannot pray – those too sick, too injured in body, mind or spirit to pray.  We pray for those who do not know God, those needing conversion, those who have no one to pray for them.
So, community prayer stretches our own personal prayer beyond our immediate concerns to a wider and bigger world than we might pray or be conscious of if personal prayer was our only prayer.  And I am sure you experience the value of praying with others at Mass and other times when you gather with a group whether that be in a classroom or before a ballgame or start of a new project.
Out of our prayer comes all our other ministries whether we work at the hospital, the university, the monastery, in a parish or public place in town.
We all lift our voices in one grand chorus of praise.
We arrive at communal prayer a little early to get our book out and ready and to quiet our thoughts and open them up to truly hear God speak to our hearts in our prayer.
We balance our voices, hold our books when standing so our voices go out and we can praise God with our best self.
We pray choir to choir keeping the same pace, beginning and ending together. We pause between stanzas of psalms to absorb better what we have prayed and we pause longer between psalms to let our hearts respond to what we have said with our voices – and make our own personal prayer.
And I like to think we join the angels and saints in their grand gift of praise.
We learn from the readings as part of our community prayer: Old testament or Hebrew Scriptures as it is now called – in the morning and from the New Testament or Christian Scriptures in the evening.
This is one way in which we are continually formed internally, nurtured, and kept close to the heart of Christ.
The readings challenge us, nurture us, question us, remind us of how much we are loved by our God.  Sometimes they quietly seep into our souls as the word bathes over us, kneading and softening our hard edges.   Conversion is a process and we are at it day after day
Communal prayer prepares us for whatever our tasks may be and it gives us a word or thought to ponder in quiet moments of our day, thus continuing to form us and connect us to our God beyond the times where we gather in common. 
You might say the fruits of communal prayer keep us immersed in prayer – a life of prayer, perhaps what it means to pray always.
Community prayer in common connects us to one another of our sisters in community.  There is something about doing dishes together, working together, or praying together that binds us – one of the blessings of community.
Community Prayer actually structures our day because we are called back to prayer at noon, in the evening, for Mass , for Compline during Advent and Lent and Adoration during our Contemplation Days.
Community prayer, Communal prayer is what we do as Benedictines.