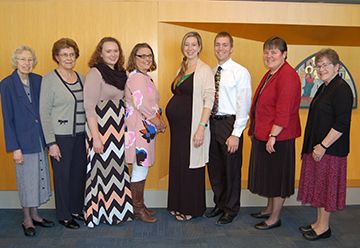 God bless our oblates!
We are so blessed to welcome five new Oblates of Annunciation Monastery: Loretta Arntz, Sara Freidt, Kristi Wanner and Hannah and Dan Cahoon.
Far left is oblate director, Sister Patricia Schap. To the far right (in red) is Sister Nicole Kunze, prioress of Annunciation Monastery, and Sister Rosemary DeGracia, assistant director of the oblate program.
May God bless you in every step of your faith journey as you live according to the Rule of St. Benedict as your state in life permits. Know of the prayers and support of the Benedictine Sisters of Annunciation Monastery!