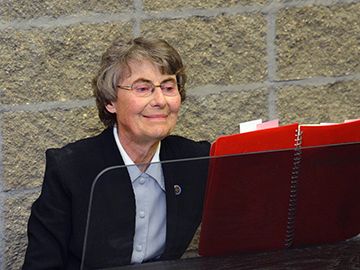 June 29, 2020
I thank all of you for being here today to celebrate the life of Sister Thomas. Our monastic community certainly extends our sympathy to Sister Thomas's family and friends who are with us today in the chapel and those joining us through the livestream. We also thank all of you for your prayers and support for us. 
"Listen carefully, my child, to the master's instructions, and attend to them with the ear of your heart." This is the first verse from the Rule of Saint Benedict, the short book which guides our life in community. Over the past week, it was rare to read a story, memory or tribute to Sister Thomas that did not mention or illustrate how she listened to the person to whom she was talking. We all know when we are really being listened to and Sister Thomas exhibited those characteristics – eye contact, head tilted to the side, the head nod, the follow-up questions, and that ever present smile. 
In living the Benedictine life for 59 years, Sister Thomas took this advice from Saint Benedict to heart and listened to many, many people. Who are some of the people she listened to during her life?    
First, she listened to God. Our community prayer schedule, with morning prayer and evening prayer as the bookends to her day, grounded Sister Thomas and opened her heart to hear God calling to her through the hymns that were sung and the Psalms that were recited. Her daily private prayer provided the foundation to assist her in facing the challenges in front of her with grace and humility. Her list of people to pray for was always full and she appreciated the grateful words of thanks and the updates people provided to her. 
Sister Thomas listened to her Benedictine foremothers, starting with the first Benedictine sisters who came to Dakota Territory in 1878 and then the founders of our community of Annunciation Monastery. Many of our sisters were her teachers in her youth. Thomas often cited the courage and faith of these sisters who came to the prairies and decided to start a college in the late 1950s. 
She listened to those around her. As President of the University of Mary, she listened and responded to the needs of Bismarck, Mandan and the broader region by increasing the offerings of the university. She listened as a board member of CHI St. Alexius Health for over 30 years, ensuring that Catholic healthcare truly "received all as Christ." She listened to her sisters in community, engaging in conversation at the dinner table, in the hallway and over a bowl of popcorn. 
All of this points to the fact that Sister Thomas's life was about relationships. It was rare to go anywhere and not have someone recognize her or for her to recognize someone. We sisters who attended public events with her knew we'd be the last ones to leave the function, because there was always someone she wanted to visit with before we left. She was energized by being with others. These last four months during the pandemic were challenging for her – there were no public events or funerals to attend, no donor calls, and no talks to prepare and give. She continued sending cards and making phone calls to friends to fill the void, but she was never bored enough to learn how to play a card game.   
Family was an important relationship to Sister Thomas. She had the unique experience of having her mother, Sister Mary Ann, follow her in joining our community just a few years after she did. Having the two of them in the community gave us sisters the privilege of getting to know George and Marcia, Judy and Steve, and all the kids, even the next generation. Thomas enjoyed following her nieces and nephews' lives – from high school and college athletic careers to marriages, children and grandchildren. Many great stories were shared when the family visited her just two weeks ago. Mary Ann had some high expectations for her family members, even Sister Thomas. Thomas often shared how her mom attended one of her many talks and in the introduction, the emcee shared the long form of Thomas's resume with all the various accomplishments and awards she'd earned. As Thomas took the stage, Mary Ann, in a whisper loud enough to be heard throughout the auditorium, leaned over to her friend and said, "Yeah, but she doesn't cook and can't play bridge."  (Two of Mary Ann's great loves)
A musician must have a good ear and know how to listen. Sister Thomas served as the choir director at the monastery for over 50 years.  Even in the prime of the presidency, she was taking the time to plan the Sunday liturgy, sometimes early Sunday morning, and lead our choir practice at 10:15am every Sunday morning.  Many sisters visiting our community would compliment us on how we sang together, our pace, and even our pitch. That was because of Sister Thomas's continuous work with us. Thomas was too polite to ever come out and tell our choir that we were singing flat. She had many clever phrases instead: Sing lightly, open your mouth and drop your jaw, sing on the top half of the note. As it said in the obituary, she always gave credit to the choir, but I can't help but think she sometimes felt like the manager of the Bad News Bears baseball team – trying her best to get just a bit of talent out of this rag-tag group and she did manage to pull it off. Now, she gets to sing with, and maybe even direct, the choir of angels on high!
During my past four years as prioress, Sister Thomas became my trusted mentor and friend. The wisdom she shared in our many conversations was a most valuable gift to me. As she always said, time was the most precious gift one could give to another and I was a blessed recipient of her time. Over the past few weeks in our final conversations, I kept telling Thomas that she was still teaching me. It was a blessed experience to walk with her and watch how she journeyed through this illness and the dying process. I've never experienced anything like her last day with us, just a week ago. There were signs on Sunday morning that the end was near. I shared that news with our sisters at morning prayer, encouraging them to visit Thomas that day. Many sisters visited in the next few hours. One sister said, "Even on her deathbed, she's the one giving me a compliment." The messages we all shared with each other during her last day are ones we should share with each other all the time: we loved her, she loved us, God loves all of us, God truly loved her, and that she had been a gift to all of us.
The last week has been a sad time for all of us here. The following sentence has been shared with me by different people during these days when the loss of Thomas is still so fresh, so real: "The pain we feel today at losing Thomas is nothing compared to the joy of having known her."
Thank you, Sister Thomas, for the joy you have given us. We are better people for having known you.  We are grateful for the gift you have been to us. May you now share in the glory of God with the saints in heaven.