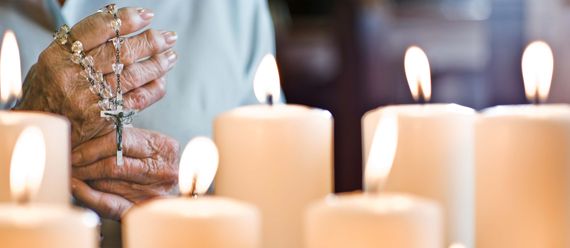 Our Sisters remember funeral home workers in prayer.
In these months of the pandemic, as our thoughts and prayers are with those with COVID, healthcare workers, and those who have died and their loved ones, we also recognize the stress and strain on funeral home directors and funeral home workers.
They carry on the compassionate work of consoling others in their loss and easing the burden of funeral planning. In April 2020, Pope Francis acknowledged the pain and fatigue of funeral home workers, stating, "What they do is so heavy and sad. They really feel the pain of this pandemic so close."
As fall 2020 has brought the experience of alarmingly high numbers in North Dakota, funeral home workers are trying to keep up with the rising numbers of COVID-19 deaths/funerals and are tasked with incorporating new safety restrictions for services and burials.
We pray:
Dear Lord,
Today we especially lift up those who work in funeral homes, please lighten their heavy burden, Lord, as they console others in their time of loss.
May they be strengthened by the Holy Spirit as they face each new day.
And as they face each new death, help them see that they are doing your work, that they are the faces of compassion in the darkest of days.
May they realize their value and be blessed and energized by your love.
Please, dear Lord, keep funeral home workers and those who participate in their services safe from COVID-19.
Help us remember to trust in you, with hearts of love and faith.
Let us find hope and encouragement in your promise of eternal life.
We ask this in your Holy Name, Jesus Christ our Lord, Amen.
*United as children of God, we grieve the loss of life, and we pray for an end to this pandemic.