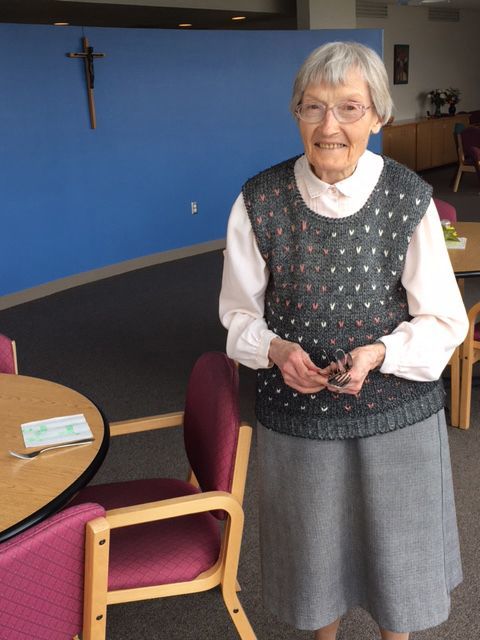 Funeral Reflection for Sister Elizabeth Novy
~Sister Nicole Kunze, Prioress
December 5, 2020
We gather as a monastic community today to celebrate the life of Sister Elizabeth. We extend our sympathy to Sister Elizabeth's family and friends joining us through the livestream. We thank all of you for your prayers and support for us.
I am going to adapt a quote attributed to the historian Henry Adams, "A teacher affects eternity: she can never tell where her influence stops." Sister Elizabeth, as we all know, was a lifelong teacher. Teaching was her first vocation, beginning with having her own one-room country school near Wing after one year of training at Dickinson State College and her career concluded some 67 years later. Becoming a Benedictine Sister was her second vocation and we have Sister Prisca to thank for giving Elizabeth the final bit of encouragement she needed to enter the convent. Sister Elizabeth's relationship with Sister Prisca began when Elizabeth was a boarding student at St. Mary's High School and Sister Prisca was the prefect, watching over the boarders and serving as a "mama to us" to use Elizabeth's description. Elizabeth and Sister Prisca corresponded with each other after Elizabeth graduated from high school and moved onto teaching. Elizabeth said that Sister Prisca would often write in her letters, "Elizabeth, you can do better than that!" in reference to her teaching in one room country schools. Elizabeth proceeded to leave North Dakota for St. Benedict's Monastery in St. Joseph, Minnesota, after a few years of teaching in country schools. 
Eighty years ago, Sister Elizabeth became a student in the school of the Lord's service when she made her first monastic profession. Her first assignment was to teach at St. Joseph's School in Dickinson. Four years later, Bishop Ryan of the Diocese of Bismarck started visiting with sisters about volunteering to establish an independent monastery in the diocese.  Sister Elizabeth met with Bishop Ryan and told him she was from North Dakota. He replied, "You belong to North Dakota!"  She said that helped her make up her mind to become one of the founding sisters of Annunciation Monastery. 
Like many elementary teachers, Sister Elizabeth taught a variety of grades, but we most often refer to her time in the first grade. In her autobiography, she shared her apprehension in becoming a first grade teacher at St. Vincent's in Mott in 1949.  She said her previous experience teaching first grade was not that great. She shared her fears with Mother Decora who encouraged her by saying, "You can do it. Just follow the teacher's manual."  Those of us who have taught know that it takes a bit more than just following the teacher's manual.  She was grateful for the advice she received from experienced first grade teachers and one could say, the rest is history. 
Sister Elizabeth's influence and effect on students will continue long into the future, probably an eternity as Henry Adams said in the quote. When Elizabeth was still attending events out in the civic community, it was very common to have a former student come up and greet her.
In the Rule, Saint Benedict stresses that the prioress of the community should teach "all that is good and holy more by example than by words" (RB 2: 12)  Sister Elizabeth was always teaching us members of her community and others by her example in her quiet, humble way. When I give talks on the Benedictine value of Service to groups at the University of Mary, my example for this value is always Sister Elizabeth and Sister Terence and their teamwork at setting the tables for dinner. Over the age of 100, Sister Elizabeth wanted to be of service to others.  I fondly remember Sister Thomas's story --- One morning, Sister Thomas had breakfast with Sister Elizabeth.  As she was getting up from the table, Sister Thomas said to Sister Elizabeth, "Thank you for being such a great model of monastic life." There was a pause and Sister Elizabeth responded, "Now that I think about it, that is all I've got to do today." Sister Elizabeth, in "just doing" that, being a model of monastic life and living our community's guiding principles, you taught us the values of prayer, service, community, hospitality, respect, and love. 
Thank you, Sister Elizabeth, for sharing your life with all of us. We are grateful for the gift you have been to us. May you now share in the glory of God with the saints in heaven.