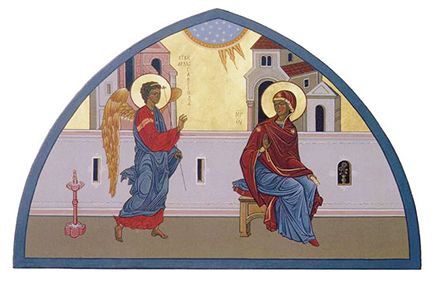 This Gospel of the Annunciation is so familiar to us…it is 'ours' so to speak.
Nine months ago, we celebrated the Feast of the Annunciation and naively recommitted to living the call.
Nine months ago, we entered a COVID Pandemic and I doubt that any of us  could foresee the pain and loss and length of this devastation.
Nine months ago, we were wearying of the negativity filling our world, but we imagined it was the reality of large urban areas; we never could imagine the protests and name-calling and vandalism impacting Bismarck.
Nine months ago, as a Benedictine Sister of the Annunciation I believe I desired "Behold, I am the handmaid of the Lord. May it be done to me according to your word." But I did not expect THIS. And I did not expect the angel to depart from me as the angel did from Mary.
Nine months ago, you and I probably didn't realize how deeply we need a Messiah in our own lives and in our world.
This is not an easy Gospel and it is not an easy time.
POPE FRANCIS has said that if this encounter of the pandemic has not changed us, we have missed the opportunity of the century.  That is the way of all God encounters – wrapped in pleasant and in catastrophic. Individually and communally. 
Like Mary, we must learn that it is holy to be troubled
Like Mary, we must learn that it is sacred to question
Like Mary, we must ultimately be changed so much that nothing makes sense but God.
There are many obstacles that make our choices difficult. Mary knew them - fear, insecurity, so many unanswered questions.   Love, however, demands that we move beyond these, and not keep wondering why life is the way it is, or expecting answers to fall down from heaven. The answer has come: it is the gaze of the Father who loves us and who has sent us His Son.
Love, then, pushes us to go beyond the why, and instead to ask for whom; to pass from asking, "Why am I alive?" to "For whom am I living?"
From "Why is this happening to me?" to "Whom can I help?" 
From "How do I take care of myself" to "Who is in most need of my care?"
For whom am I living? Not just for myself!  We can waste years thinking about ourselves. We can waste an entire nine months – pregnancy or pandemic - without ever actually starting to love.  But the Annunciation is about self-abandoned love that brings forth life.
In the past nine months - For whom have I wept, fought with God in the darkness of night, disclosed my fear in a world over which I have not control? 
For whom have I spoken out and drawn criticism for my unsettling words?
For whom have I given hours in heart-wrenching service honoring grief?
Many have spent these months in numbing television, trivia, self-absorption. And truthfully, there have been times that to there I have fled as I'm sure have you.
But to be women of the Annunciation  is always to be at the beginning of something new. We are to always be learning a new way of being - a way of depth and breadth.
New life.
Miraculous Virgin Conception.
The Power of the Most High.
Nothing less will save our world. 
Nothing less.