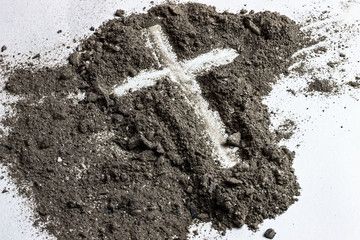 Reflection for Ash Wednesday 2021
Sister Nicole Kunze, Prioress
February 17, 2021
Growing up in St. Catherine's Church in Valley City, our family always attended the Sunday 8am Mass. We left the farm for Mass at 7:30am since it was a 15 minute drive to town and we never came at the last minute. We sat in the second or third pew from the back, left side, right off the center aisle. We were one of the few families with kids at that mass.  I always entered the pew first, followed by Mom or my sister Stacey. Dad was always last, but Kory usually sat at the end of the pew, on the aisle. Mr. and Mrs. Martin Huber sat in front of us. Some of you may know their daughter, Sister Mary Agnes, a member of the Sisters of Mary of the Presentation. She was the first sister I ever remember knowing. She would visit them several times a year.  Mr. and Mrs. Leo Rebhahn sat behind us and to the left. Grandma and Grandpa Kunze were way up front, right side, about four pews from the front. 
I share this memory because I assume many of you have similar childhood memories. We humans are creatures of habit. We seem to long for routine. My parents still sit on the left side of the church but have moved up about 10 pews from when we were kids. Depending on your perspective, the past year has provided us with lots of routine or no routine.
My routines have certainly been different during the pandemic. Traveling on a regular basis had become routine for me but is no longer. All of my out of town meetings and conferences have been cancelled or moved online since last March and it appears that will be so for the foreseeable future. My suitcase is getting dusty on the storage room shelf.
In the early days of the pandemic, when everything seemed out of sorts, our monastic horarium and its routine was something you and I could count on. Gathering in chapel with the community followed by a meal in the dining room were the anchors in our day. It kept me going. We had to make some modifications, such as sitting a bit farther apart and adding the hand washing routine, but they weren't major changes. 
Today we begin the season of Lent. It is a season which I believe calls us to either create a routine if there isn't one there or to change the routine if it has become lifeless. For some, creating a new routine may be what you need. With all the uncertainty surrounding the pandemic, maybe you feel like you're a bit listless, unable to focus on a task or activity. Setting up a new routine – for your prayer, lectio, reading or service to others – may be beneficial. 
For others, changing a lifeless routine may be helpful. It is easy to become comfortable in our routines, to always know what comes next, what the expectations are. But this comfortableness may be holding us back from necessary growth. We may need to push ourselves during Lent. We may need to move to a different pew.   
I ask you to consider this quote from Sister Joan Chittister's Ash Wednesday reflection: "Lent is about becoming, doing, and changing whatever it is that is blocking the fullness of life in us right now. Lent is a summons to live anew."
God is in the newness of life. We tend to cling to the old, the familiar, the routine. We don't like change. We are being invited to begin again. We have the opportunity to start over again with whatever it is we need to start over again this Lent. That is the wonderful gift we have with God's mercy. We start over again where we are now. We don't have to clean up the bedroom of our lives and get it into shape before feeling worthy of starting over. God accepts us right now, as we are, as we begin again. 
Sister Joan Chittister wrote, "Everything in life can begin again, at any time, in every way, if we will only permit it." Maybe the season of Lent has become an old, comfortable routine for you, whether that is giving up the same food each year or taking time for more prayer and reading.  Take the opportunity this Lent to live life anew.  Break out of your old routines and start new routines. The season of Lent has the capacity to provide you with an experience that you never thought possible. Open yourself up to that.