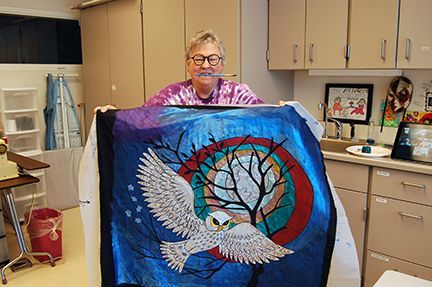 Sister Nancy Gunderson will participate in the Capital Quilters National Quilting Day Weekend, quilting classes and "Bed Turning Event" this weekend (March 13-14) at the North Dakota Heritage Center!

On Saturday, March 13, Sister Nancy will teach a class to participants on how to paint and quilt a meadowlark art quilt. The Meadowlark is the North Dakota state bird. 
On Sunday, March 14, Sister Nancy will be a participant in a "Bed Turning" "If Quilts Could Talk" event at 2:00 p.m. in the Russell Reid auditorium where she will join other artists who will show photos of their quilts and explain the stories behind each quilt. Sister Nancy will discuss the inspiration behind two of her quilts, "For the Birds," and "Modern Blox." This event is free and open to the public. Sister Nancy's owl quilt will be displayed both days.