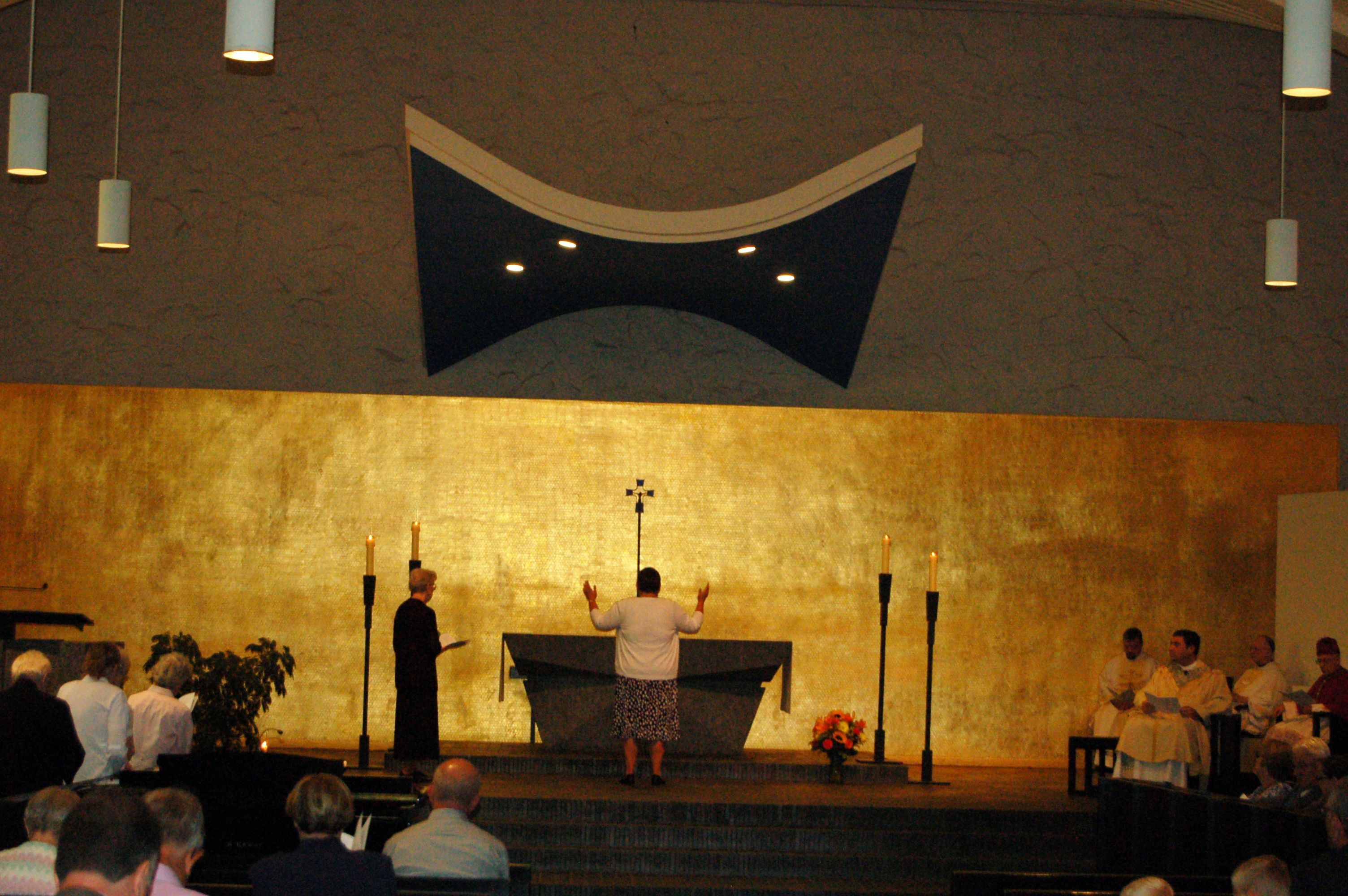 Instruction:  25th Jubilee of Sister Nicole Kunze, OSB
Listen…incline the ear of your heart. So St. Benedict begins his 6th century rule.  Listen…incline the ear of your heart. So you did, Sister Nicole, as a University of Mary student. But for St. Benedict in the sixth century, and for you in the last, those words to listen didn't have their stories yet.
Listen carefully…incline the ear of your heart, for it is ultimately to listen to the Divine Voice and to prefer nothing whatever to Christ. For St. Benedict the stories that subsequently came to be include tales of saints and of the great impact of monasteries on western civilization, for our own historical lineage by way of St. Walburga's in Eichstatt, Germany and St. Benedict's in Minnesota, and for the way Benedict's words give impetus to chronicles, decisions, and influence in making our way through life today. For you, Sister Nicole, as a well- informed sports enthusiast from a very young age, you had a game plan -- to earn a doctorate and teach on the university level without any thought of becoming a sister. And then, as a University of Mary student, you met the Benedictines of Annunciation Monastery who seemed…humanly ordinary, just like you. And, as Mary did, you listened, extended the ear of your heart, and held and pondered the words, events, and experiences of your life. You tasted and saw the goodness of the Lord. 
Today we gather with you, in gratitude to God, to celebrate your listening and response to God that give the story line to these past 25 years as a vowed Benedictine, and to the day your parents, Marilyn and Allen, brought you, in their faith and love, to the Church to "put on Christ" in baptism, to expand your own identity as beloved daughter of the Father, and which you live out in life consecrated as a Benedictine sister.
Today you publicly renew your vows unique to Benedictine profession--obedience, fidelity to the monastic way of life, and stability. Obedience is about that deep listening that attends with the ear of the heart and with Christ as the center. It helps us know who we are, Whose we are, and where the Spirit is leading. In your own words some years ago, you've learned that obedience is more about love than law. In that obedience your story has brought you to servant leadership as prioress which calls for most generous listening, the kind of listening that facilitates the "bringing of Christ to each other and the bringing of each other to Christ." It is through obedience that we can learn that Jesus is intrusive in the best way possible. In a life permeated by scripture, and in a retreat preached some years ago by Benedictine Father Jerome Kodell, we were given a mantra which he said sums up what God says to us in scripture: "I am with you.  I love you. Trust me."  It is obedience or listening that brings about a conversion of life in the staying power of stability.
The "school of the Lord's service," as St. Benedict describes the monastery, is a school in session each day for a lifetime toward conversion of life. It holds the rhythm that keeps us in the flow of God's mercy and love with the liturgy of the hours and the Eucharist, inviting us to allow ourselves to be shaped and molded by each other in community in the ordinary circumstances of daily life, and in serving in the Church and in serving each other toward giving our lives away in love. It calls for opening to change, listening to and working with others, giving up pet projects for the sake of community needs--all in faithfulness to the ongoing process of transformation into Christ.  It includes celibacy and chastity and monastic poverty and views ordinary life, people, and things with the perspective of hearing God say, "I am with them. I love them. Trust me."
Stability proclaims a rootedness, an 'at-homeness' in this place with this particular monastic family. Rooted thus, it allows the movement like that envisioned by the Michael Rosen poem, "We're going on a Bear Hunt." Thus, when faced with doubts and challenges, it is with the help of the Father who loves us and with the help of many sisters, that we can say with faith's trust: "Can't go over it, can't go round it, can't go under it, gotta go through it!" We've got to walk through it—just as you've led us in this time of COVID. Perhaps you learned stability in a particular way when away at school and as you set your own schedule to pray at the time you knew the sisterswere praying in the keenness of the sense of distance from the people and events of home.
Today, you know the 25 years of stories shaped by the obedience, fidelity to the monastic way of life, and stability as a Benedictine sister of Annunciation Monastery- stories that bring us your reflections in relatable images and foundational truths of faith. They are stories, too, characterized, in initiative or response, with the traits your parents identified in you from little on—determination, finishing what you start, and in giving 100% - or more.
As smart coaches do, you've adjusted your "game plan" as you've listened with the ear of your heart, as you've pondered with Mary, and then responded in the generosity of love. Today's renewal doesn't yet have the stories of the next 25 years, but, shaped by faith, hope, and love,
they are stories yet to unfold,
stories of being transformed in Christ,
and that hold the fidelity of the God "beyond all praising,"
our God—
I am with you.                                                                                                                             
I love you.                                                                                                                              
Trust me.
~ Sister Janet Zander, OSB
June 19, 2021