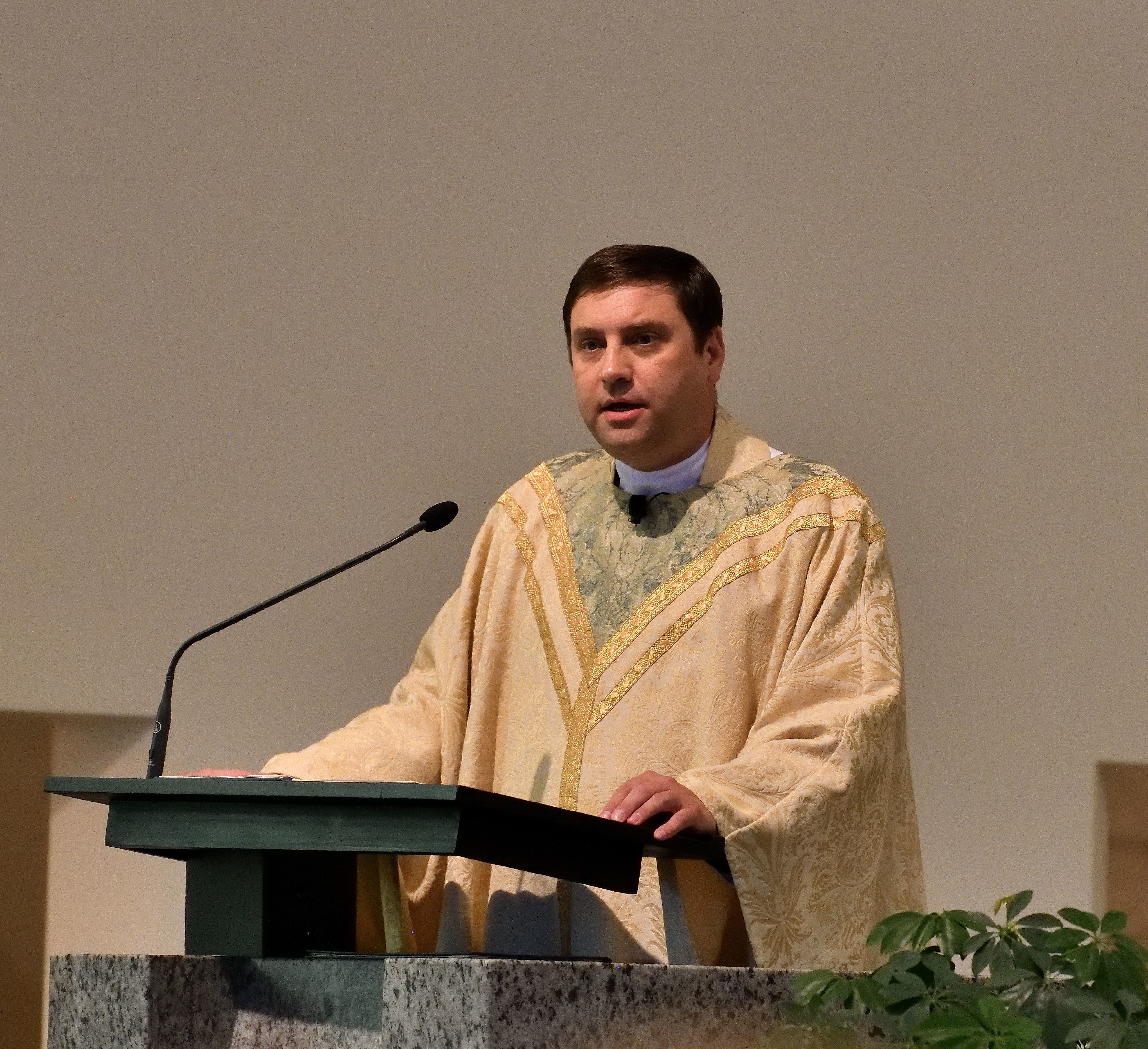 Homily for the Silver Jubilee of Sister Nicole Kunze, OSB, Prioress of Annunciation Monastery
by Monsignor James P. Shea, President of the University of Mary
19 June 2021
Our Lady of the Annunciation Chapel, the Benedictine Center for Servant Leadership
"Taste and see the goodness of the Lord!" (Ps 34)
The entire rhythm of a Benedictine, monastic life is grounded in the daily praying of the Psalms: all the emotions, hopes, sorrows, fears, and joys of God's people stretching back to a great Kingdom that knew both glory and defeat.
Yes, Jerusalem, in its prime, might have been even more beautiful than Valley City, North Dakota. And the voices of the citizens of that city – both the Jerusalem of old and the New Jerusalem – captured in Psalm 34, rise up also in us: "Taste and see the goodness of the Lord!"
Yes, those of us who know and love Sister Nicole, who have had the happiness of serving with her and sharing her life give thanks to the Lord for his great goodness, which for us today is not just an idea. As we remember, celebrate, and give thanks for 25 years of consecration and community, God's goodness is something very real, something we can taste and see.
Sister Nicole, how happy we are for you, how grateful we are for your fidelity to your call and vocation, and how moved and edified we are to consider all that God has done in and through you as teacher, a leader, a Benedictine sister. Happy Jubilee!
Sister Janet will later offer the instruction. For now, let's turn our gaze upon the Gospel reading chosen by Sister Nicole for this Eucharistic liturgy.
From one perspective, we could say that the choice of the Annunciation bears the obvious mark of the scientist. What I mean is that it doesn't seem very creative. (In chemistry, I'm told, if you're not careful and follow the rules, things explode.) It's the obvious choice because here we are in Our Lady of the Annunciation Chapel, and the Sisters themselves are "of the Annunciation." And everybody knows that the call of Mary was not only the unique call that brought the Lord of Heaven to earth, but that it is also an example of the way the Lord calls each of us, and especially those he has called to a life of consecration to his service.
The Annunciation is rightly remembered by us as a turning point in human history, and Mary's Fiat has been honored as an inspiration and an example to everyone who has heard the Lord issue a personal call: "Let it happen to me according to your word" (Luke 1:38).
But there's something else going on here. You see, scientists are surprising. They run deeper than you think, though they may not be as flashy or overt as philosophers or theologians or the scholars of history and literature. Because the call of Mary and her response to that call brought about an irreversible reaction involving the arrangement of the basic units and defining structure and properties and composition of her life … resulting in a new substance.
When Gabriel presented God's will to Mary, she did not respond by saying what she was willing to do, she responded by receiving the gift of who she was willing to be: "I am the servant of the Lord" (Luke 1:38).
This was a whole new ballgame, way more dramatic than the '91 World Series.
Why? Because the change of chemical composition of Mary's whole life in that moment meant that she would need to repeat that "Yes," that Fiat, every morning of her life. It's a great thing to respond to the Lord's call with a high heart and a willing yes. Great, but in a certain sense easy. Promises are not so hard to make. They are much harder to keep. We are told in the Gospel more than once that as the years went by "Mary pondered these things in her heart." She was not only willing to do the Lord's will at the start; she kept considering the call the Lord had given her as life's circumstances were changing. And she was faithful to her call to the end, through the bitterness of the cross, to the joy of the resurrection and the giving of the Holy Spirit, and living with John until the day the Lord fulfilled his promises to her and took her again to himself.
But Gabriel did not give her a script, a scenario, for her vocation, for what would happen along the way. The archangel that day did not tell her, "Young lady, before you say yes or no, I should help you see what your answer will mean. Your husband will think you have been unfaithful. Your baby will be born far from home, in the feeding trough of animals. The rage of a king will drive you into exile in Egypt. For three decades you will live in poverty in a backwater town, and nobody will know who your son is. Then you will watch your neighbors try to cast him off a cliff, your relatives claim he is crazy, the authorities accuse him of blasphemy. He will not outlive you, and he will not die of natural causes. On one dark day, you will be the most humiliated, heartbroken person in the whole world."
None of this was offered to her. Instead, just this promise: "The Holy Spirit will come upon you, and the power of the Most High will overshadow you." Knowing only that God had spoken, that God would be with her, Mary spoke her once-for-all yes, and she never looked back. With great patience and trust, she took the good and the bad – with a sword prickling, prickling, and then piercing her heart – as she awaited the fulfilment of the promise, just as her people had waited for long years and ages.
Patient trust. This is one reason why we are so glad to celebrate this Jubilee with Sister Nicole. She is offering us an example and an encouragement in the great Christian virtue of patience.
Patience is a quality deeply associated with Benedictine life. Although Saint Benedict did not include a chapter on patience in the Rule, it has been said that the term seems to rise and fall throughout the text like the refrain of a song or a hymn.
Those of us who work with Benedictines in the Sisters' sponsored ministries know that patience is also something that we get to learn, whether we like it or not. Nothing is hasty with the Monastery.
We often think of patience as the quality that keeps us calm and charitable in the face of life's daily aggravations. Kindly endure this sister whom you find irritating; don't get angry with that crazy driver; stay serene when things don't turn out the way you planned. Such patience is an excellent quality, and a fine aspect of the virtue. But in the Scripture, while that meaning of patience is present (as in our reading today from Paul's letter to the Colossians), patience is most often praised and encouraged as the quality of steadiness in serving the Lord through long years and changed circumstances. The virtue of patience speaks of faith in God's goodness, hope in God's promises, and readiness to suffer for the sake of the call God has given us.
When Jesus tells the parable of the sower, he notes three kinds of seeds that seem to begin well, but that then get lost along the way, whether from birds, or lack of roots, or choking weeds. Then he describes how some seed falls into souls that he calls "good soil." As for that in the good soil, they are those who, hearing the word, hold it fast in an honest and good heart, and bring forth fruit with patience (Luke 8:15). When Saint Paul writes to the Romans about God's plans, he says: For God will render to every person according to his works: to those who by patience in well-doing seek for glory and honor and immortality, he will give eternal life. (Rom 2:6-7).
And are we not all in great need of this quality of patience, of faithfulness to God "in season and out of season," in enthusiasm and distress, in good health and in exhaustion, always remembering the promises of God and never giving up hope? Again, Saint Paul: Now hope that is seen is not hope. For who hopes for what he sees? But if we hope for what we do not see, we wait for it with patience (Rom 8:24-5).
Today we're so grateful, first to God, and secondly to Sister Nicole. We're grateful to God for the call he gave to Sister, a call that has been a gift of love and service to us all, and for the grace he has so abundantly supplied to her during these twenty-five years. And we're grateful to Sister Nicole for her quiet persevering steadiness in staying her course of love and service and – like the good soil in that parable of Jesus – in bringing forth so much good fruit with patience.
We thank Sister as well for her remarkable scientific creativity in directing our attention today to these words: "Let it happen to me."
These words, "Let it happen to me," are so creative and so potent that, when Mary said them, the whole world started over again.
And thus we all say them together on this Day of Jubilee:
"Lord, let it happen to us!"
And we say, with Sister Nicole:
"Lord, for all that has happened, 'Thank you.' For all that is to come, 'Yes!'"