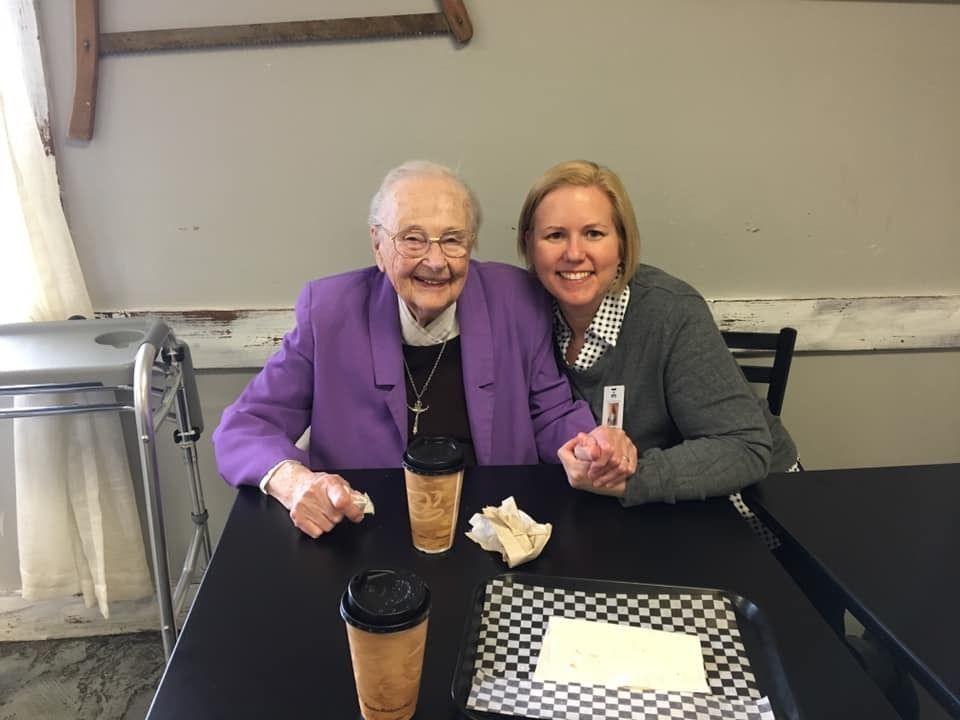 Vigil Reflection for Sr. Terence Glum—Sr. Idelle Badt, January 16, 2022
            Teresa Glum reported for earthly duty on August 26, 1921.  Her marching orders:  serve God, country, and humankind, which she did extraordinarily well in a very quiet and humble way for the next 100 years.
            As I was reflecting on Sr. Terence's life, I kept coming back to the gospel reading from Matthew that we just heard.  Coming into this world, Sr. Terence's Master knew she would only need two talents to fulfill her marching orders, and they weren't monetary in nature.  The talents given to her consisted of a superior intellect, and a stubborn personality. 
            Sr. Terence's early years were spent on a farm in McKenzie, ND.  She frequently recalled the hardships her family endured from the effects of the Great Depression, most notably, losing the farm and having to move to Bismarck when she was in middle school.  Prior to moving to Bismarck, all of Sr. Terence's schooling had been completed in a one room country school.  In Bismarck, her parents enrolled her in St. Mary's Catholic School.  Sadly, she told me that she always felt inferior to and ostracized by her classmates because her family had lost their farm and her education thus far had all been in a one room schoolhouse.  Not to worry, she pulled out her first talent, a superior intellect, and graduated from high school—something that not too many people in North Dakota got to do at that time, especially females.  
            After graduating from high school, she decided it was time work on her first marching order and serve God by becoming a Catholic Sister.  Unfortunately, a priest, who shall remain unnamed, told her she was not a candidate for religious life and refused to give her his required recommendation.  She whipped out both of her talents this time and moved on with an "I'll show you" attitude.  This is the attitude that only a young woman gifted with the talents of a superior intellect and stubborn personality can possess. 
She temporarily put religious life on hold because she knew she was going to become a sister whether that priest said she could or not.  She pulled up her bootstraps and started marching on to her second order, service to humankind.  She enrolled in the St. Alexius Hospital School of Nursing and became a registered nurse.  She continued to work at St. Alexius Hospital as a nurse for a few more years until she knew it was time to start marching again.  She needed to start on her third order, service to her country.
Sr. Terence's brothers had been drafted during WWII, and she felt it only right that she too fulfill her patriotic duty, so she joined the Navy Nurse Corps.  This is the one thing that initially drew me to Sr. Terence; I thought it was so cool that she had been in the Navy during WWII.  She never brought it up in conversation; I always had to coax military stories out of her.  If I remember correctly, her military service took her to Chicago, Illinois; Annapolis, Maryland; and somewhere in Florida.  She told me that when she was stationed in Florida she swam in the ocean on New Year's Day.  That made me really happy because it would have been one of the few times in her life that she decided to have some fun and throw her inhibitions into the wind. 
One other memorable moment of her military service that stands out to me happened on April 14, 1945.  She was chosen to be one of the service members in the military escort for President Franklin Delano Roosevelt's casket from Union Station to the White House.  I frequently told people about this event in Sr. Terence's life when I was introducing them to her because I considered it to be a great honor.  I would tease her and say she was chosen because she was a long-legged beauty queen, to which she would scoffingly reply, "It's only because they didn't have anything else for me to do that day."
This was also the one time in her life that she had a gentleman friend.  They met on a commuter train in Maryland, and he was smitten with her.  She told me their dates consisted of a lot of duck pin bowling and going to museums (however she did admit that she preferred to go to museums by herself.)  He was much more interested in her, than she in him and they eventually parted ways when her service to country was completed. 
After her honorable discharge from the Navy, she returned to Bismarck to take care of a little unfinished business.  The unnamed priest who had previously denied her entry into a religious community was no longer the person who determined her fate.  BOOM!  She entered religious life and became a member of the first group of postulants with the newly formed Annunciation Monastery. 
As a professed member of this community for over 73 years, she received training to become a nurse anesthetist, administer EEGs, and eventually went on to earn a master's degree so that she could become a professor of health sciences at the University of Mary; mainly teaching courses in anatomy and physiology.  Many of her students have stated that she was a remarkable professor and truly taught them respect for the human person.  She taught at the University for 30 years.  I have no idea how many students that would be, but I would guess over a thousand.  Now, take those students and multiply them by the thousands of people they have assisted throughout their careers, and add to it the people she took care of as a nurse and soldier.  I would say the talents her Master gave her have come back to him exponentially. 
All the things I just told you about Sr. Terence were things that I learned directly from her, not from a written biography.  I consider that a big accomplishment because we know Sr. Terence was a woman of very few words who did not have the sunniest outlook on life.  I admit that she scared me when I moved into the monastery as a postulant because she was very prim and proper, black and white, and serious; all things that I really am not.  For that reason, we tended to not interact with each other during my first year in the monastery.  But then two things happened, I became a Novice, and Sr. Terence became unsteady on her feet.  She was no longer allowed to go for walks outside by herself for fear of her falling, and I was now home all the time.  My novice director, Sr. Agatha, requested that I accompany Sr. Terence on her daily walks so she would still be able to go outside.  Of course, I said yes, but I was scared because I was sure that Sr. Terence would not want me to be the one taking her on her daily walk.  However, she agreed, (although I don't know how willing she was), and eventually we became very comfortable with each other. 
I would hammer her with questions about her life because the more I learned about her, the more in awe I was of her.  I also began to understand why she was the way she was.  She had experienced some very traumatic things during her life which then tended to color everything a shade of gray.  My biggest fear was that Sr. Terence was going to die feeling unloved and unworthy of affection, so I made it my mission to make sure that didn't happen. 
She was always very interested in what I was learning about in my social work program.  Anytime my coursework dealt with the importance of socialization or physical touch, two things lacking in her life, I made sure to bring the textbook or copy of the research article so she could read about it. She would pull out her talent of superior intellect and we would have an academic, yet heartfelt conversation about what we had just read.  I am not an affectionate person by nature, but I knew I needed to be with her.  I hugged her often, held her hand when she was having a bad day, and told her I loved her as much as I could.  Little by little, she softened.  I no longer had to beg her to do things like join sisters in the kitchenette for coffee or decorate Christmas cookies with me.  If she ever balked, I would look at her say, "Remember, it's not about drinking coffee, it's about…" and she would reply, "…spending time with people."  It took a year or two, but she eventually got to the point where she would initiate the hug or hand hold.  However, she could never quite say the words, "I love you."  Her response to me was always, "and I, you" or "thank you," that is, until four days before she passed away.  That evening she was still able to talk, and she told me she loved me four times and that we would always be together.  I'm pretty sure that was her way of telling me she knew she was loved, and she was also trying to comfort me in my sadness. 
I was with her at the end of her life and about 10 minutes before she passed away, I told her I wanted to have her listen to a song because she was soon going to be hearing Jesus say these words to her.  I put my phone on her pillow and played, "Well Done" by the Afters.  The song's refrain is:
Well done
My good and faithful one
Welcome to the place where you belong
Well done
My beloved child
You have run the race and now you're home
Welcome to the place where you belong
Sr. Terence, well done good and faithful servant; you have now been honorably discharged.  "May God reward you" as you enter into the kingdom of heaven and share your Master's joy.