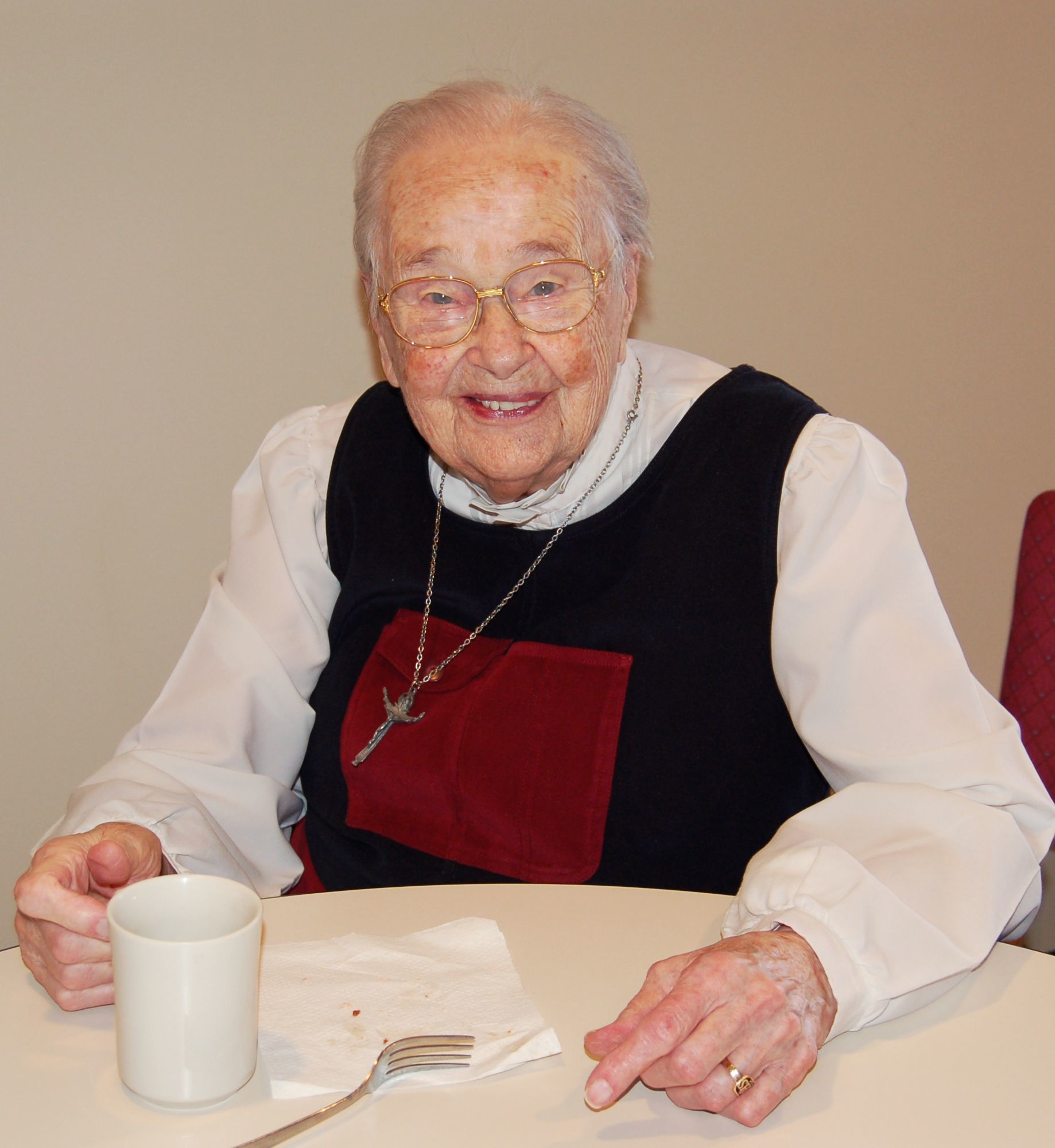 Funeral Reflection for Sister Terence Glum
Sister Nicole Kunze, Prioress
January 17, 2022
We gather as a faith community today to celebrate the life of Sister Terence.  We extend our sympathy to Sister Terence's family, including her sister in law Loretta and Loretta's son Mike, and her niece Dany who are here today, along with her friends and colleagues.  We thank all of you for your prayers and support for us.   
In 1998, television newsman Tom Brokaw authored a book entitled The Greatest Generation.  In the book, Brokaw profiled those who grew up during the Great Depression, then went on to fight in World War II or contributed to efforts on the home front.  Brokaw wrote that "it is, I believe, the greatest generation any society has ever produced." He argued that these men and women served not for fame and recognition, but because it was the "right thing to do."
Sister Terence was a member of the Greatest Generation.  Born in 1921, Sister Terence spoke of the challenges of growing up in rural North Dakota in an autobiography she wrote in 1969.  She said her family did not own a car and her father would ride to town with a neighbor to get supplies.  They borrowed a car once or twice a year to go to Bismarck for Mass.  She attended a one-room country school until they moved to town after selling the farm. 
Through the profiles in Brokaw's book, a list of characteristics of this generation has been compiled.  Sister Terence's life exemplifies many of these characteristics and I will highlight a few of them today. 
Work Ethic – When her family moved to Bismarck, Sister Terence attended St. Mary's School.  She worked after school cleaning to cover her tuition.  The older children always assisted the younger ones with tuition money to ensure they would receive an education.  She noted that all but one of her siblings finished college. 
Tom Brokaw pointed out that many of the stories in his book had not been told, because these men and women didn't think what they were doing was that special, because everyone else was doing it.  I would put Sister Terence in that category.  She was not one to talk a lot about her experiences or accomplishments.  I wasn't aware of her role with setting up the first electroencephalography department in North Dakota until I read her obituary. 
Sister Terence enjoyed teaching very much.  She was grateful to the monastic community for allowing her to pursue advanced degrees in anesthesia and science education.  In her years at the University of Mary, she would have taught anatomy to nearly every healthcare major.  She always enjoyed having former students care for her at local clinics and the hospital. 
Sister Terence's work ethic carried over into her leisure activities, too.  Caring for her flower beds was important to her.  I remember that she was one who didn't tolerate hot weather that well, but she'd go out on those hot days in her white coveralls and green cap to tend to the flowers.  For many years, playing Scrabble right after lunch was her routine.  As she would often say, "Use it or lose it!"  She never kept score and made up her own rules, particularly more recently. 
Service – Sister Terence loved being of service until her last days.  After retiring from teaching at the university, Sister Terence was a regular switchboard operator, answering the phone and greeting guests to the monastery.  During her many hours at switchboard, she knitted mittens, hats, sweaters, and blankets, either for donation to the poor or as commissioned projects for family and friends.  After she retired from switchboard duty, she became a significant helper in the administrative area.  Every morning, shortly after Mass, she would walk down the hallway, stopping in every office to see if there was any work for her to do.  She did all of our paper shredding – and I'll note, we haven't found her replacement yet!  She assisted with opening various forms and letters that would come to the business office for each individual sister, alphabetize, and file them for the business office personnel.  She folded the Sunday Mass participation sheets.  She always seemed disappointed when she would stop by our offices and we didn't have any work for her to do.  Sister Terence wanted to help, she wanted to serve others. 
Faithful Commitment – The foundation of Sister Terence's faith came from her mother at an early age.  Her mother taught her from the Baltimore Catechism.  Sister Terence and her sister Violet would spend a week with a family in Hazelton so they could attend the summer catechism class taught by the pastor. 
In her autobiography, Sister Terence said she wanted out of the military when the war ended because she was restless.  She sought to enter the convent as soon as she was home.  She and one of her classmates, Sister Neola, came to Benet Hall on July 3, 1946 to enter the postulancy because they wanted to come as soon as they could. 
In these last months, there were days where we didn't think Sister Terence was well enough to come to prayers with the community.  We encouraged her to stay in her bedroom and pray for us.  But before we knew it, she managed to get up and walk down the hall to the chapel.  She was determined to be with us, her sisters, when we were together for prayers and Mass. 
Sister Terence lived a full and faithful life in our Benedictine community for over 73 years.  Her presence will be missed.  Her example of work ethic, service, and faithful commitment is a wonderful memory for all of us.  Thank you, Sister Terence, for sharing your life with all of us.  We are grateful for the gift you have been to us.  May you now share in the glory of God with the saints in heaven.  And it is our turn to say to you, Sister Terence, May God reward you.
(Sister Terence would always say "Thank you and may God reward you" when you did any sort of favor or service for her.)