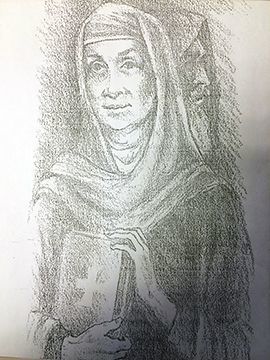 Reflection for the Feast of St. Scholastica
Sister Nicole Kunze, Prioress
February 10, 2022
The Second Reading at our Mass for the Feast of St. Scholastica   (Ephesians 3:14-19)
Brothers and sisters:  I kneel before the Father, from whom every family in heaven and on earth is named, that he may grant you in accord with the riches of his glory to be strengthened with power through his Spirit in the inner self, and that Christ may dwell in your hearts through faith; that you, rooted and grounded in love, may have strength to comprehend with all the holy ones what is the breadth and length and height and depth, and to know the love of Christ that surpasses knowledge, so that you may be filled with all the fullness of God.
In today's second reading at our liturgy, we heard Paul's prayer for the Ephesians.  Towards the end, he prays for the people to "know the love of Christ."  I believe that is something we would all pray for ourselves and each other.  We also realize that it isn't a one-time accomplishment.  Throughout our life's journey, we are coming to know the love of Christ each day. 
How do we "know the love of Christ"? 
One of the first ways to come to my mind would be through encountering Christ in one's personal prayer and lectio time.  In those quiet times of prayer, we can listen to the voice of God embracing us.  We also know that God speaks to us anytime, anywhere.  It isn't just in our designated prayer times.  That is why we need to be receptive, open and listening for God's word.  God may speak to us through the kind words of a family member, a community member, or a stranger. 
In serving each other, we are able to give and receive Christ's love.  I do love the weekly blessing of our service to each other in community.  Serving one another is a large part of what makes this place more than just shelter from the elements and a place to receive three meals a day.  Our service to each other and those we encounter allows us to see Christ in the flesh. 
We also come to know the love of Christ through our interactions with one another.  This reading is quite appropriate for today's feast of Saint Scholastica.  We all know the famous story of her last visit with her brother, Benedict.  In his commentary on St. Gregory's Dialogues, Fr. Terrence Kardong wrote, "After a long period of progress in personal and legislative discipline, Benedict had reached a stage where he needed a lesson in love.  The Rule had taken him as far as it could, and now he needed to give himself over to love."  His sister, Scholastica, provided him with some help in learning that lesson.  I trust each of us has had many experiences over our lifetime of receiving a 'lesson in love' from someone.  This summer, I received a lesson in love from an acquaintance, someone I did not know that well.  She wrote me a note, telling me that I kept coming up in her prayer and that I needed to know God's love for me.  I'll admit, at that time, I did need to hear that God loved me very much.  I'm grateful that this woman shared her prayer with me. 
In the example of Saint Scholastica, may we be women and men who willingly share the love of Christ with others.  May we come to know the love of Christ through our personal prayer, our service to each other, and in our interactions with others.